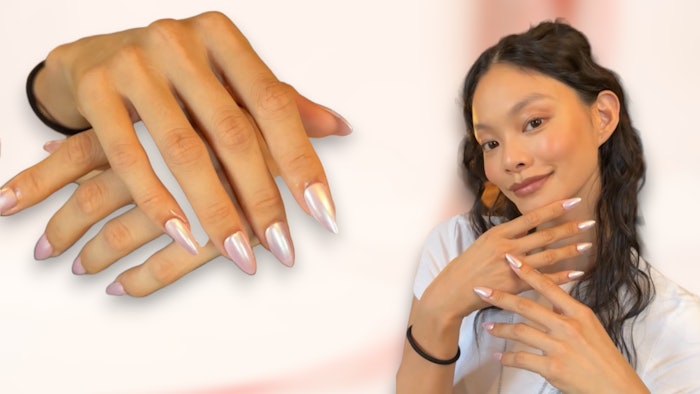 Courtesy of CND
Lead Nail Artist Leanne Woodley created a pink chrome nail look for the Mirror Palais Spring/Summer 2024 runway show during New York Fashion Week. 
Woodley (@she.nails.it) shares that she pulled inspiration from a classic ballet slipper for the nail looks. 
"We went with different pinks and champagnes, depending on skin tones, and finished with a light layer of chrome finish to elevate the nail look. Mirror Palais is very beautiful, sexy and elegant, so we wanted to do something that would oomph it up and complement the gorgeous collection," Woodley explains. 
Below, Woodley shares her step-by-step tutorial for creating the look seen on the runway, using products from CND.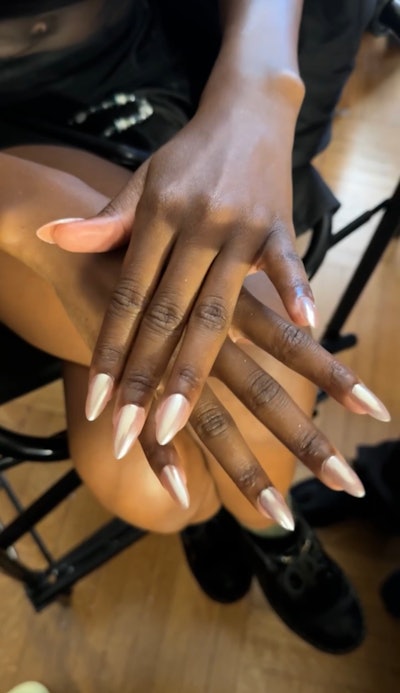 How-To: 
Begin with nail prep. 
Apply a layer of bonder gel and cure in a LED. 
Using nail forms and builder gel, create the desired nail length, shape and architecture. Cure. 
Clean with 99% IPA. 
Shape and refine the nail with a 180 grit file and buffer. 
Repeat step four. 
Apply two layers of your chosen pink- or champagne-colored gel polish. Cure each layer in the LED lamp. 
Apply a layer of no-wipe top coat, and cure. 
Using a sponge applicator, apply a pearl chrome evenly to the surface of the nail. 
Apply a layer of no-wipe top coat to seal the effect and cure. 
Apply cuticle oil to condition the nails and cuticles. 
Finish with moisturizer to moisturize the hands.