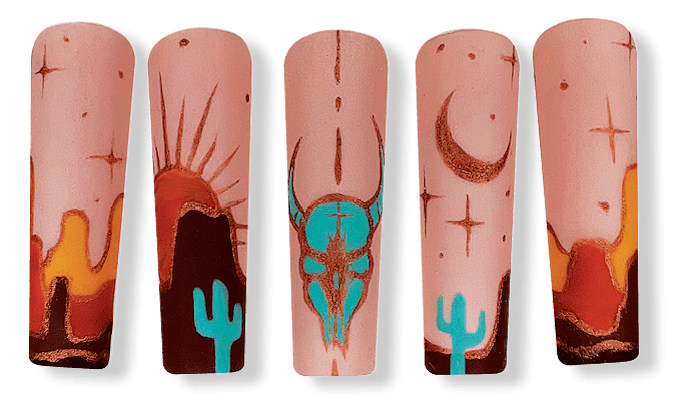 Courtesy of Lorena Cruz
From its stunning color palette to its wondrous landscapes, the desert is Mother Nature's latest muse for everything from interior decorating to summertime nail art. Lo Cruz, the owner of The Spot Beauty in Phoenix, Arizona, created a delicious, desert-inspired set that perfectly captures all the earth-toned beauty of this vast ecosystem.
"The design was inspired by an artist I follow on TikTok," Cruz says. "@hannahhh.mp creates hand-painted bookmarks, which helped inspire this design. I think it is amazing how we can find inspiration from other artists—not just nail artists—for nail art, all brought to us by social media. Expand your creativeness by watching other artists outside of your work field."
For the how-to with step by steps and photos, check out Nailpro's July/August 2022 digital magazine.