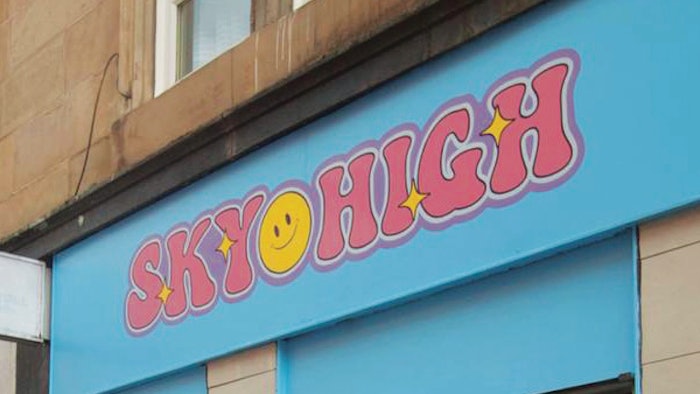 Courtesy of Sky High Studio
Elise Smith welcomes Nailpro to Sky High Studio in Glasgow, U.K.
The Backstory
Having worked in multiple salons, I never quite found the place for me. Prior to opening Sky High, I was studying law. However, I was struggling with my mental health, studying something I was no longer interested in. Lockdown gave me a new perspective on what I wanted. I decided to make the jump to open a salon where I could provide the inclusive, friendly space that I had always wanted to work in.
The Look 
[I love] anything smiley + funky! I love smiley faces so much. They are scattered all over the salon. Also, if something is a lil bit weird, I love it. I feel like when you're an adult, everything can be so dull aesthetic-wise. I wanted to create a space that was the opposite. I've had people message saying walking past the salon cheers them up!
Signature Services
We provide gel manicures, builder gel overlays and gel-x extensions, and I sculpt extensions with acrygel!
The Goods
Retail wise, we only retail OMYetc cuticle butters. They are the best cuticle care out there in my opinion! With a range of scents, there's one for everyone. Product wise, we mainly use Sissi + Lecente products in the salon. Sissi's clay range, their glitters and velvet gels are stunning. My ultimate favorite has to be the pastel clay. For extensions, we use a Gel-X system.
What's Next
I have so many plans! I will be creating a line of products related to Sky High that's under wraps now. My plan is to continue growing our social media and working with more brands.
+Details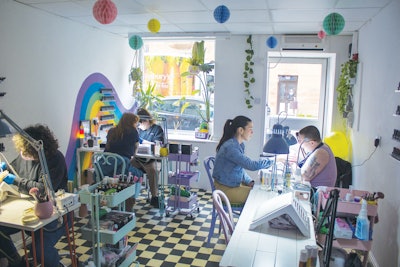 owner: Elise Smith 
Est.: March 2022
Staff: 6 self-employed staff members.
Benefits: While everyone is self-employed, everyone's happiness within the salon is so important to me. While there aren't many tangible benefits, I'm always open to communication of what the staff need. I offer two weeks free rent per year for people who rent a space full time, plus if there are any emergencies, such as an operation. Every few months, we have free training sessions to help everyone improve their skills.
Up Close With Elise Smith
What was your first job in the nail industry?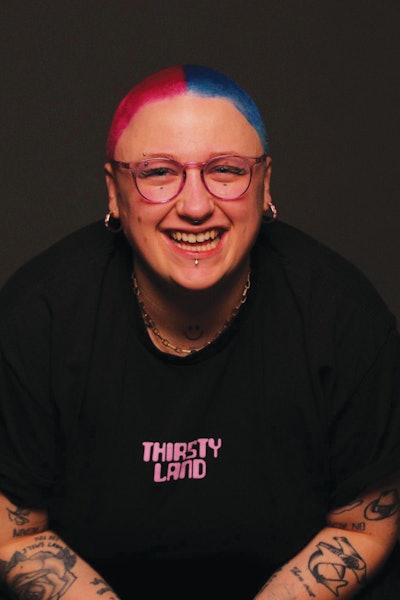 My first job was within a salon in Glasgow. It was fast paced, so it allowed me to improve myskills quickly.
What inspires you?
The people around me. I have so many creative, inspiring people in my life. Whether I take inspiration from their work or the clothes they wear, they are an integral part of my work. Independent illustrators and tattooers inspire my work a lot too. I try to take inspiration from anything other than nails, so I can put my own spin on it.
What was the most challenging thing that happened while opening your salon?
I worked full-time while renovating the salon. This took a toll on my mental and physical health, but working while doing it was the only way! I was unmedicated for my ADHD during this time, which was super hard.
What piece of advice would you give to a new salon owner?
Just go for it. While it sounds cliche, you're never going to be fully ready. Take the plunge, get the outline of the place ready and the decor and style will follow. I would also say to try not to be too trusting in your first business, and think with your head not your heart.
I can't discuss my salon without mentioning…
Smiley faces. The inspiration for Sky High!
Here and Queer
How does your salon celebrate Pride Month?
We don't have a specific pride event to celebrate, but I do love posting rainbow nails throughout the month alongside charities people can support. Often, companies add rainbow washing to their marketing, which I really don't like.
What are ways that you make your salon inclusive to everyone who visits?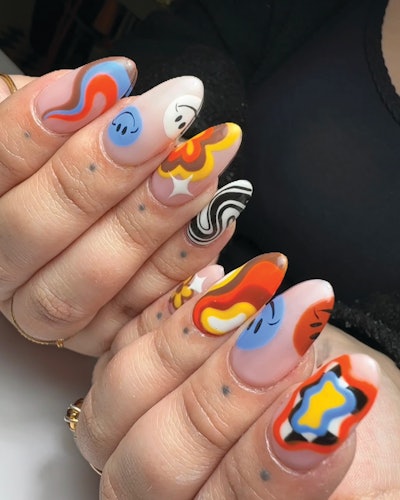 Firstly, I'm very open on my social media about being a lesbian. I'm an open person in general on social media, and I think this puts people at ease before they enter the salon. I have a policy of if a client demonstrates homophobic, transphobic, racist or ableist behavior, I would ask them to leave. However, all of our clients are amazing, so I've never needed to do this. We have chairs without arms, as some of my plus size friends have mentioned chairs with arms can be uncomfortable. We have gel polish colors that suit all skin colors. We mostly keep the big lights off to help with sensory issues. The softer glow of lamps is much nicer. On our consultation forms, I removed the option to select your gender and have a section where people can say their preferred pronouns.
Are there any changes you would like to see the industry make or gaps that you think need to be filled to make queer nail artists feel more welcomed/accepted?
There definitely needs to be changes with regards to diversity within the industry. Seeing a variety of brand ambassadors would be great. I think having a variety of ambassadors (OMYetc has a diverse collective of BAs which I am one of) would be a way to make queer people feel more welcome.
What does being a queer nail artist mean to you?
It's an honor to provide a space that people, especially queer people, feel comfortable entering. The number of inclusive salons is unfortunately limited. The amount of clients I've had that never had their nails done before because they didn't know if they would be welcomed into a regular salon is really sad. This is why it feels like an honor that they choose Sky High.
What advice would you give to queer nail artists just starting out in the industry?
Be yourself. Sometimes you can feel a little disconnected from this industry, but so many queer people are joining the industry, which is fantastic. It's beautiful to see people doing nails from all walks of life. So, don't feel like you need to put yourself in a box. Be you and create the art you want to!
Come visit us…
106 Allison St, Govanhill, Glasgow G42 8ND, United Kingdom