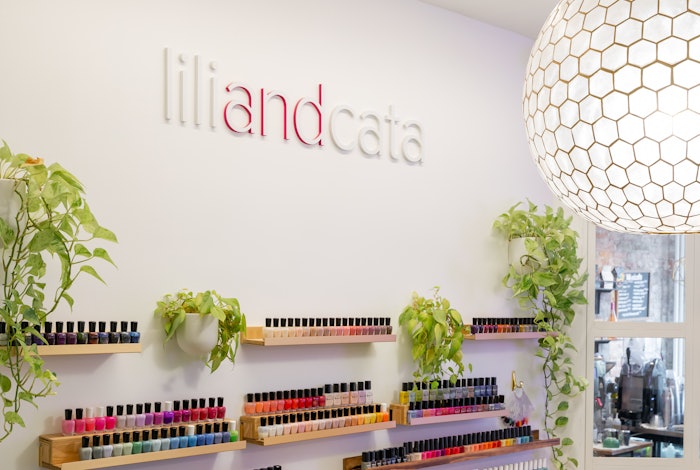 Courtesy of Lili and Cata
There are three things that Lilly Rojas loves to do to relax and escape: get her nails done, enjoy a glass of wine or have a cup of coffee with good company.
She and her husband Jorge created a space to do just that when they established Lili and Cata in 2019, a beautiful, urban oasis with a stocked cafe/wine bar and even more space for nail creativity. Nailpro sat down with Lilly to learn more about her vision and the secrets to her success.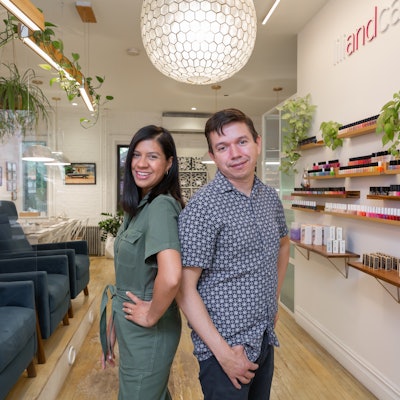 Getting Into the Industry
Lilly Rojas (LR): I got into the industry from the consumer side first. I wanted to create an experience where getting a mani and pedi became an escape from the daily rat race that can be NYC. However, I understood that in order to create this experience, I needed to fully understand the technical side. This is why I did a tremendous amount of research on non-toxic nail care and completed my 250 hours course in order to be a fully licensed nail technician. We only carry non-toxic and vegan nail brands. We don't do acrylics, tips or dip powder (which is basically acrylic in powder form).
The Design
LR: We wanted a homey feel, not the typical salon pedicure thrones and sterile feel. The furniture we procured has more of a residential feel than salon furniture. We are constantly complimented by clients when they step into our salon and say this does not feel like a salon, which was exactly our goal. Since we are a waterless nail salon, we use recliners as our pedicure chairs. They are so comfortable that we constantly see our clients take a nap while they are getting their services done.
Latina Influence
LR: My latina heritage is incorporated into our business through hospitality, as they say "mi casa es su casa." It also makes it easier for me to communicate on a daily basis with our nail techs and also to relate to them. They're all hard working women/moms, and even if they didn't grow up in this country, they are working hard to accomplish their American dream. I make sure they're paid fairly and not overworked, which is not always the prevailing practice in this industry.
The Garden Spa
LR: The outdoor space was something we wanted since we first rented the space. We originally thought it was going to maybe be a couple of manicure tables. However, thanks to the pandemic, a couple of tables turned into a full blown permanent tent and a whole other salon. It has been a challenging endeavor because we have had to deal with mother nature, heating and constant maintenance of our tent. On the plus side, it carried us through the pandemic, and we had people come from other areas just to experience our garden spa. Now, those clients keep coming back to us even if they need to travel over 30 minutes or an hour. 
A Cup of Joe
LR: The cafe was not an afterthought but always meant to be part of the salon. Like I mentioned earlier, it's an all-in-one relaxing escape.
A Relaxing Escape
LR: Our clients always mention how they feel so different and not rushed like in other salons. All our services are at least 10-15 minutes longer than our competitors. We purposely taught our nail techs to do detailed work because we focus on quality over quantity. Our clients constantly compliment us on our nail techs' and front desk staff's work and friendly demeanor. This is further demonstrated by the high online ratings and comments we get.
Getting New Clients
LR: Most new clients find us through word of mouth, some from social media platforms and some also from just googling "non-toxic salon" or finding a salon with great reviews.
Top-selling Service
LR: Our mostly booked services are the lush manicures and lush pedicures. We have three different leveled services (essential which is the basic, lush and escape). Lush services include a 5 minutes shoulder massage or a 5 minute leg/foot massage. This is the service people choose when they want a little something extra but not the full, longer "spa" treatment.
Come visit us…
Website: www.liliandcata.com
Instagram: @liliandcata_nailsaloon