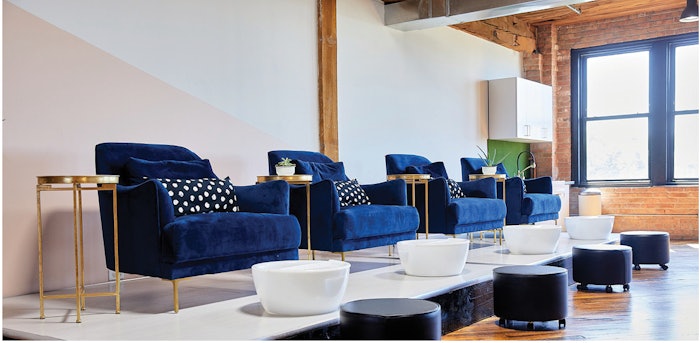 Rachel James welcomes Nailpro to Pear Nova Studio in Chicago, Illinois.
The Backstory
I graduated from the International Academy of Design and Technology in Chicago. In school, I created a fake nail polish line for a marketing presentation, even though everyone else chose to create mock fashion lines because we were in fashion school. My professor was blown away by my presentation and told me I should go work for OPI. I had always known that I didn't want to work for someone else's brand, so I went home that day and searched, "How to start a nail polish brand." Nail polish felt like the perfect combination of fashion and beauty. To me, it's both an accessory and a beauty product.
I expanded my talents throughout school and became a certified esthetician. I then transitioned to work for myself, incorporating Pear Nova and assembling a team of creative conspirators all working in trade to help push each other's talents into the universe. Looking for inspiration, I traveled to Paris, France to attend Cosmetagora, where the leading global cosmetic chemistry companies are represented. In a sea of luxury, I committed to creating a high-end product, aiming to one day hold rank with the classics and become a global beauty standard.
A year and a half went into perfecting the Pear Nova formula while staying true to custom color choices. I believe that meaning has power, so it was important to me that I design Pear Nova in Chicago and manufacture it in the US using an innovative long-wear formula that's cruelty-free, vegan-friendly and 10-free — which means no formaldehyde, formaldehyde resin, camphor, toluene or dibutyl Phthalate (DBP).
The Studio 
The vibe of Pear Nova Studio is unmatched. It's New York meets Miami. It feels like walking into your favorite, most stylish homegirl's house. Clients can feel comfortable in their own skin, catch up and learn something new before leaving inspired and energized. But, we do face challenges with our location. We lost several employees and had to reconstruct our studio and office layout since the pandemic.
Our number one booked service is still a classic pedicure and gel manicure. Nudes, brights and white (for those toes) are our most popular shades. My favorite product we offer currently are the Marvel Studios' "Black Panther: Wakanda Forever" Layover Luxury Faux Nail Collection.
During services, we use our classic and gel lacquers and nail care items, like our Soak, Scrub + Butter Set. Locals can order their Pear Nova products from our website and pick them up in the Studio.
The Future
Pear Nova Studio hopes to add more team members in 2023. I'm also looking forward to hosting more events and partnering with other Chicago-based beauty and wellness brands to deliver unique experiences to our customers.
+Details
Owner: Rachel James
Est.: December 2019
Staff: Four and looking for more!
Benefits: PTO, flexible schedule, company culture, employee discounts on services and products and partnerships with Pear Nova for celebrity clients, events and editorial campaigns.
Courtesy of PEAR NOVA SALON
Come visit us…
2150 S Canalport Ave 4C, #14, Chicago, IL 60608
Website: pearnova.com
Instagram: @pearnova
Up Close With Rachel James 
What was your first job in the nail industry?
I remember giving manis and pedis all the time growing up and after high school.
What advice can you impart to aspiring nail techs or business owners?
Thinking back, I wish someone had told me to slow down. I was always so excited about releasing or sharing something that I would turn around, wish I did it differently and try to backtrack. Take in and enjoy the process because it's a journey. I'm still on this journey and nowhere near the end of it.
Also, learn how to work through your fear. I still get scared when I release anything because I wonder if people are going to like it. As an entrepreneur, you have to believe in yourself. So, trust your own crazy and work through your fear. I think that goes so, so far.
What inspires your art?
I noticed a void in medium-to-dark skin tones shown center stage in the nail world. When I created Pear Nova, I was, and still am, committed to celebrating all skin tones. Our classic and gel palettes have been inspired by runway trends; my travels; food; music; my hometown, Chicago; and the female pioneers that inspire me.
How did your collaboration with Marvel arise? What's your history with the brand?
As a boy-Mom turned Marvel fanatic, I fell in love with all the elements of Black Panther. From Wakanda's rich culture to female governance, I was completely inspired by that film's world and everything in it. In creating our first collection of Layovers, I wanted to pay homage to the story that inspired so many and express the adoration I feel for Black Panther and Wakanda. I also wanted to develop a product that would make my sons proud. I think, with this collection, we've accomplished all of that and more.
What next for Rachel James in 2023?
Pear Nova and IPSY are working on more collaborations. Pear Nova will release more nail care products and makeup.