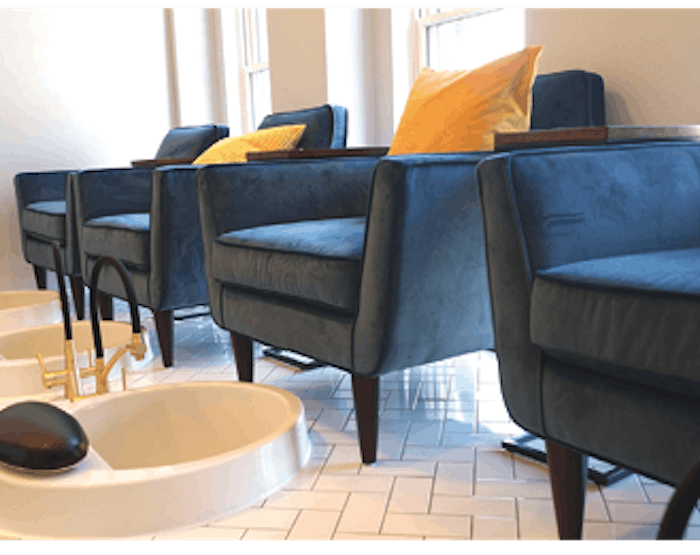 The Backstory
The unpleasant scents of acetone and isopropyl acetate permeated Baltimore, Maryland — that is, until Jasmine Simms opened Scrub Nail Boutique.
"You could smell a nail salon in Baltimore from miles away," says Simms. Leveraging her background as a nail tech and spa lead at Four Seasons Hotels and Resorts, she set out to improve the nail salon experience by eliminating foul fumes entirely. In 2014, Scrub Nail Boutique opened in Baltimore's Fells Point neighborhood as the city's first fume-free natural nail salon.
The Look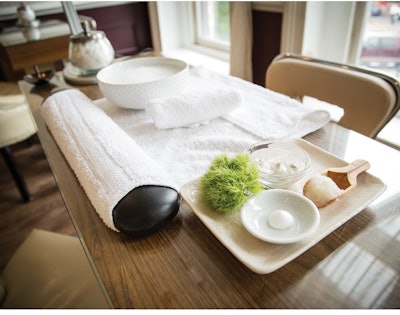 One year after opening, Simms and her team worked hard to elevate the salon, a second-floor walk-up with zero curb appeal, to a space worthy of the title of Baltimore's Best Nail Salon — a title bestowed upon Scrub Nail Boutique for seven consecutive years. "We opted against the usual office-style salon chairs and headache-inducing fumes in favor of a welcoming, cozy atmosphere," says Simms. 
Paint Society
In 2020, Simms founded Paint Society, a forum for nail techs to introduce innovative services and hear clients' nail salon experiences. "Exchanging information this way helps foster positive working relationships," says Simms.
Perhaps most importantly, according to Simms, Paint Society provides the entrepreneurial, customer service and business management training that's often inaccessible to aspiring salon owners. In 2022, Simms expanded Paint Society to include continuing nail education courses and salon entrepreneurship and management training.
Since its inception, Simms and Paint Society have helped more than 250 aspiring and existing entrepreneurs recover from unforeseen obstacles and grow sustainable businesses.
What's Next
As Scrub Nail Boutique continues to evolve, Simms will continue to impart her 18 years of experience in the beauty and hospitality industries to guide new and existing entrepreneurs and salon owners in achieving their wildest dreams.
Up Close With Owner Jasmine Simms
What was your first job in the nail industry?
JS: I landed my first job in the nail industry at 17, when I was hired to work in a small spa inside a local health club. My last position as a nail tech before opening Scrub Nail Boutique was with Four Seasons Hotels and Resorts. 
What inspires you?
JS: I'm most inspired when I witness independent nail technicians grow in their aspirations, as my own professional growth has always been closely associated to the growth of those around me. I hope to draw upon my own experiences, expertise, triumphs and failures to give nail technicians everything they need to thrive. I want the next nail technician who goes into business for themselves to surpass my success, in less time than it took me, but with more resources and support. 
What challenges did you face opening your salon?
JS: Opening my salon was an incredible lesson in marketing. I recognized immediately the importance of building relationships to retain clients, as the second-floor location of Scrub Nail Boutique made access that much harder to walk-in customers. I got to know my customers and really listened to their stories, and that's the quality service that continues to attract clients to my business. I learned that the success of my salon hinged on referrals and imagery. Whether on social media or exchanged person to person, a client's good word is gold. To remedy the salon's limited access to walk-ins, I shared imagery of the salon that conveyed the space's cozy and inviting atmosphere.
What advice would you give to a new salon owner?
JS: Know your numbers! Delving into your business's finances can be overwhelming and scary, but it's critical to ensure your success. Knowing your numbers will help you recognize whether your products and services are priced properly, and whether you're making or losing money. It will also help you determine whether to invest in marketing endeavors or other, more pertinent expenses. Your salon's numbers tell a story. The good news is, you own the narrative.
What's next for Scrub Nail Boutique?
JS: Scrub Nail Boutique and Paint Society are transitioning into Paint Society Education, a hub for continuing nail education and salon entrepreneurship and management training. Among other topics, we'll teach advanced massage techniques, how to grow your income, lower your expenses, increase clientele and retain customers.
Come Visit Us 
Follow Nailpro on Instagram and subscribe to our free daily newsletter to receive the latest news for nail professionals.