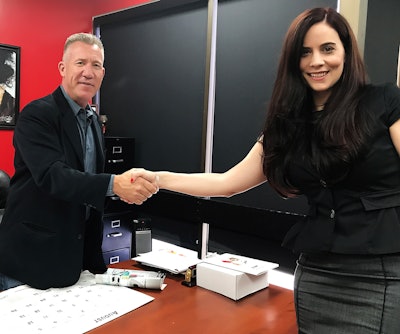 Anaheim, CA-based manufacturer Kupa Inc. announced its official acquisition of Valencia, CA-based company Nailebrity and introduced Elaine Watson as its new executive vice president. The strategic move will expand Kupa's international presence and also welcome a licensed nail professional to the executive team.
"The acquisition means that Kupa will have a licensed tech on the team taking real life experience into consideration as we continue to innovate the e-file and expand the Kupa brand into even more quality products with an exceptional educational support team," Watson shared exclusively with NAILPRO.
RELATED: Learn how to safely prep natural nails using an e-file 
Richard Hurter, president and CEO of Kupa Inc., says the professional nail brand will benefit from Watson's global partnerships and industry expertise while strengthening its foothold in the United States as a manufacturer of innovative tools for the nail segment. "The skills Watson has acquired along her journey can be taught to a new generation of nail professionals," Hurter says. "Her selfless dedication, expertise and infinite connections are all reasons why I wanted to create a place for her at Kupa. I have no doubt that her insight and guidance will help Kupa grow exponentially."
As executive vice president of Kupa Inc., Watson will focus on domestic and international sales growth. Research and development are also part of her new day-to-day role as she works to increase Kupa's offerings for professionals. With two decades of experience in the nail industry as an educator, Watson will work with the Kupa education team to develop effective and pertinent information for brand partners and its social sites, including KupaTV, its YouTube channel.
RELATED: Nude-to-Neon Acrylic Nail Art By Kupa Guest Artist Yire Castillo
Watson's combined experience as a salon owner, celebrity nail technician, television personality/judge on Nail'd It, head booth judge of the internationally known Nailympia competition (a position she will retain) and most recently as entrepreneur and CEO of Nailebrity, Before launching her brand in 2015, Watson spent 10 years working as a global educator and corporate executive with an internationally known manufacturer in the industry.
"Kupa caught my eye and that of the industry with all the additions that Hurter has made to the company since taking ownership," Watson says. "He has been branding the company, not just as an e-file company but as an incredible nail brand with successful education to support the entire nail industry and not just the things Kupa sells. I am excited to work closely with Richard while we take the company to the next level and beyond."
What do you think of this big industry news? Let us know in the comments below!
-Sigourney Nuñez
[Image: Courtesy of Kupa Inc.]