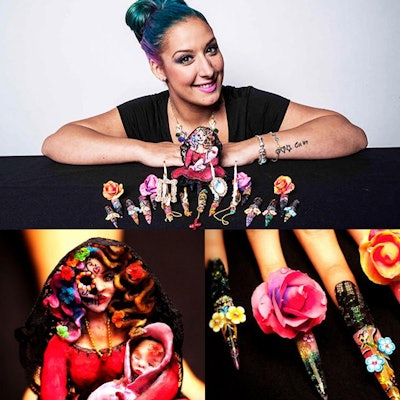 SPOILER ALERT! Oxygen's first season of Nail'd It has come to a close and the finale was incredible. Ashley Craig took home the grand prize of $100,000, plus she'll be doing the cover nails for an upcoming issue of our sister publication, Nail It! magazine. We love that this show brought nail art (even extreme competition-worthy nail art) to the consumer and tech alike – plus it educated viewers along on the way on what actually makes a good nail.
Nail'd It also rewarded techs like you for being really, really good at what they do. Being a nail technician is a professional career that requires skill and hard work, and when you give it both things, you never know what amazing things could happen.
Congrats to Ashley Craig, who'll be using the money to take care of her daughter. You can follow her on Instagram at @kickashnails.
See behind-the-scenes photos from the episode here.
[Image: Oxygen]