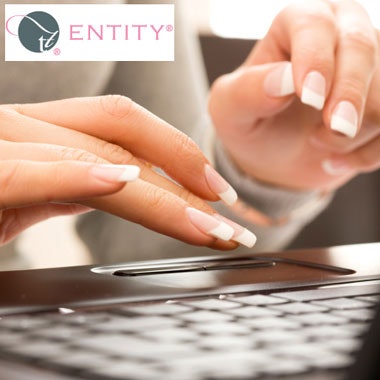 Looking for additional nail training but can't travel to the regional classes and trade shows? Take a class on your computer from Entity Beauty.
Each webinar focuses on different product lines and nail applications and is designed to give nail technicians an in-class experience from home. Entity webinars teach the same information and show the same demonstrations online that would be learned in a regular classroom setting. The webinars are hosted live and feature Entity's Global Artist and World Renowned Nail Technician, Lorena Marquez.    
The webinars are easy to follow. Topics are introduced via PowerPoint slides as visual teaching aids. Product demonstration videos are used to show step-by-step application procedures for each topic in real time. At the end of each webinar, attendees have the opportunity to ask questions, and they receive copies of all slides by e-mail as reference material.  
"I am absolutely thrilled about Entity webinars and being a part of bringing fun and exciting education to salon professionals," Marquez says. "I look forward to introducing new topics in the near future that will excite your passion for Entity Beauty."  added.
For a list of class and webinar dates and to register online, visit Entity Beauty.
Below is a list of the currently scheduled webinars. Topics and schedule are subject to change.   
November 14: Holiday Nail Art using Entity One Color Couture Gel EnamelDecember 5: Entity Nail Couture Acrylic SystemDecember 12: Holiday Nail Art using Entity One Color Couture Gel EnamelJanuary 9: French Alternative Acrylic Designs
[Image credit: ©Thinkstockphoto]
Related: Entity Beauty Announces New Director of Education | One Color Couture Style Collection from Entity Beauty | In Memory: Tom Holcomb