Courtesy of Katie Barnes Tool Range and OPI
Katie Barnes Tool Range and OPI, both leading innovators in the nail industry, have announced the launch of their collaboration for OPI x Katie Barnes E-File.
OPI x Katie Barnes E-File offers a range of features and benefits that are unmatched in the market, including:
Minimal vibration
Almost silent
Free education
The collaboration ties with the launch of OPI's new diamond gel and the need to offer OPI nail professional an e-file to infill and remove the product as well as perform e-manicure and e-pedicure services.
"I've been so pleased to work with Katie on this collaboration and the e-file training, bringing an opportunity for OPI nail professionals to add e-filing to their treatments in a safe way with great education and the perfect, dual branded e-file," adds Belinda Price, OPI Education and Capability Manager.
Katie Barnes Tool Range and OPI have also collaborated on an exclusive bit bundle of KB Polishing Ball E-File Bit and OPI cuticle oil to slough away dry skin to take your manicures to the next level.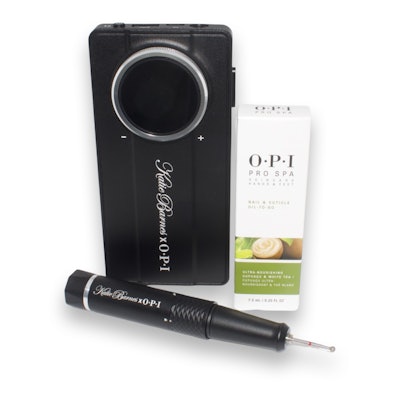 "We are excited that a renowned and respected brand such as OPI, which we have used for years, had the trust in our brand to collaborate on their e-file and are thrilled to launch this product together," said Katie Clark, Katie Barnes Tool Range Director.
Both OPI and Katie Barnes Tool Range has a long history of innovation in the nail industry, and OPI x Katie Barnes E-File is the newest collaboration from these two brands.
You can purchase the product on the Katie Barnes Academy website: https://www.katiebarnesacademy.com/products/opi-x-kb-portable-e-file.