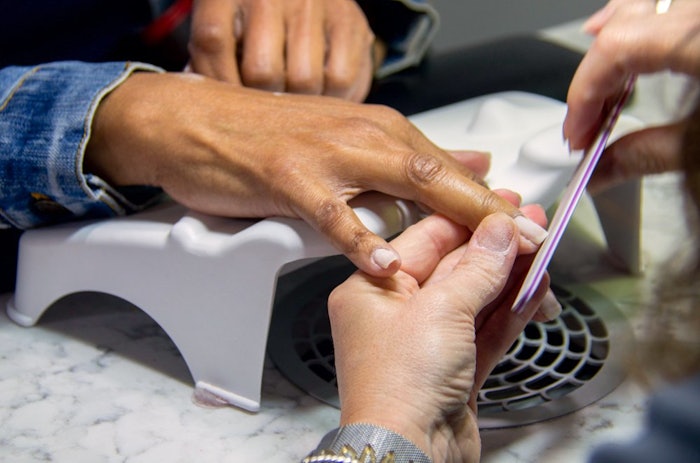 Courtesy of Lori Halloway
Introducing The Ergo Lift, a patented, ergonomically designed hand rest for nail technicians to prevent repetitive strain injuries and improve service efficiency.
Addressing the ongoing concerns of repetitive strain injuries within the nail technician community, Lori Halloway, the inventor of The Ergo Lift and owner of Meticulous Manicurist LLC, announces the launch of its ergonomically designed hand rest. The hand rest resolves all the problems the inventor faced that caused strain and pain, leading to potential career-ending disk injuries. This hand rest aims to solve common workplace challenges nail technicians face, like keeping the client in one place and removing the weight of the client's hand from the nail technician.
"Rather than leaving the industry I love, after facing the severe impact of a neck fusion, I decided to innovate and develop a device tailored to the needs of fellow nail technicians," Halloway shares. 
Key Features:
Ergonomic Design: The Ergo Lift incorporates the correct angles to keep the client's forearm, wrist, and hand in perfect alignment with the center of the nail technician's body. Proper hand placement ensures the nail tech can see without bending from side to side, causing strain and muscle spasms in their hips, Psoas muscles, trapezius, SI joints, etc. After in-depth research and understanding of the requirements of nail technicians, focusing on reducing repetitive use injuries, it was clear there were no devices on the market to benefit nail technicians. 
Enhanced Efficiency: The Ergo Lift's design streamlines the nail service process by offering a stable platform for the technician and the client. Nail technicians can complete their services more efficiently, quickly, and pain-free than without, allowing them to work longer hours and fit in more clients.
Supports Nail Technician Well-being: The design focuses on mitigating discomfort associated with nail services and band hand positions by the client. The device is very comfortable for the client, but the primary purpose is to sustain and support the longevity of the nail technician's career.
Online Resources: The website, https://theergolift.com provides videos showing clients' different hand positions and how The Ergo Lift can assist in these scenarios to keep control in the nail technician's corner.
The Ergo Lift emerged from Lori Halloway's challenges in the nail industry. After a significant medical neck fusion, she faced the prospect of ending her career. However, her commitment to the field drove her to design a solution that addressed the ergonomic challenges many professionals face. The handrest was an instant success due to her understanding of the industry's needs and her determination to provide a viable solution to continue working in the beauty industry.
Visit https://theergolift.com to learn more.