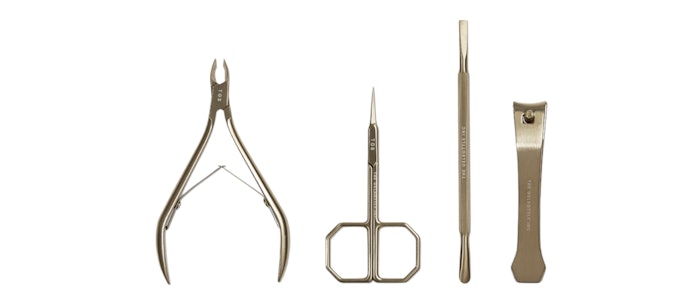 Courtesy of The GelBottle
Perfect prep is the secret to long-lasting nails. Make sure you have the right tools with the arrival of the brand-new TGB Tools Range.
The GelBottle is a one-stop-shop for all your essentials from nail care tools to nail sculpting must-haves. Their newest launch includes the following: 
ProTrim scissors: Stylish and superior with a unique champagne finish, you can snip stickers, foils, forms, natural nails and cuticles. 
ProNip nippers: Cuticle trimming just got easier thanks to the ProNip cuticle nippers. With a pointed tip, ergonomic design and titanium coating, you can say goodbye to cuticles and hello to perfect nails.
ProPrep dual-tool: Achieve perfect precision with the ProPrep cuticle pusher. You're in complete control with this dual-ended nail pusher tool. 
ProClip clippers: Introducing your new favorite nail kit essential: ProClip nail clippers. Featuring sharp blades for smooth cuts and an ergonomic design, they're comfortable for you — and your clients.
Each item in the tool range, available now on The GelBottle's website, can be purchased separately or in a bundle.