Courtesy of Crystal (@lovefreshpaint)
Ella+Mila has launched their first-ever collaboration with @lovefreshpaint. 
This limited bundle, curated by Crystal, is only available while supplies last. 
"We curated a full set to give you the very best to achieve your ideal mani/pedi. I wanted the colors in this polish trio to be super wearable, so I tapped into the sort of colors that resonate most when I share content online. Hope you enjoy," Crystal shares. 
The bundle includes the following: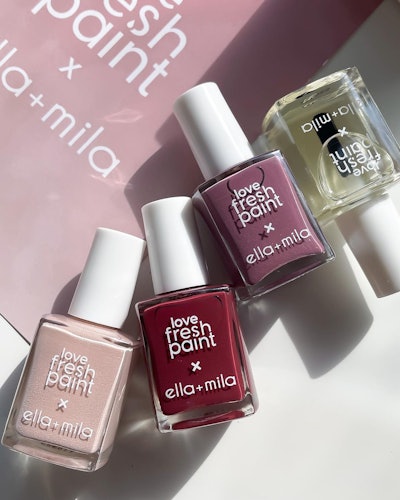 Nail Care: the sweet life (cuticle oil)
Top & Base Duo (In a Rush & All About the Base)
Cuticle Pusher
Nail Buffer
Nail Filer
Dual Sided Nail File + Buffer
Soy Nail Polish Remover - Lavender 4oz
Soy Nail Polish Remover Wipes - Unscented 5-Pack
Carry Me! (travel-size bag)
Additionally, the bundle includes three custom polishes that Crystal shares were inspired by motherhood: 
Hot Mess Express: My hero shade, it signifies the sh*t show that parenthood so often is. I'd describe this as a burgundy with hints of brown, perfect for Fall. 
Me Time: Because self care is so important, especially for moms, I loved the idea of a shade to signify those little moments where we can steal away to nurture ourselves after nurturing everyone else. This is a dusty purple, a quintessential winter shade. 
Giving Myself Grace: Because motherhood comes with so much guilt and second guessing, we have to remember to be kind to ourselves. This creamy beige neutral is a great palette cleanser, something many of us reach for after the holiday season.
An almost $110 value, the bundle is currently available on ella+mila's website for $65, saving you 40%.