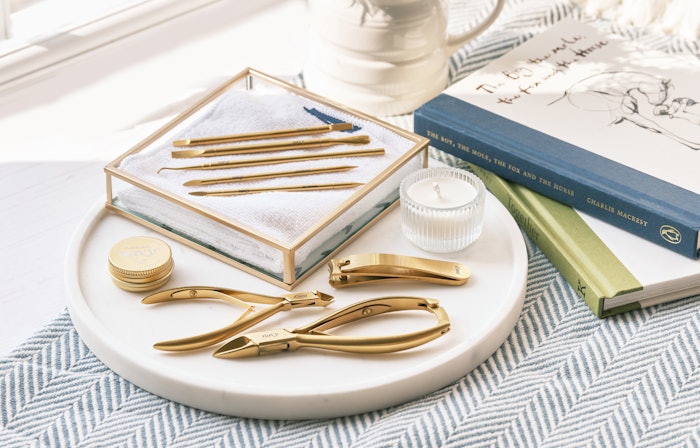 Courtesy of Navy Professional
Navy Professional is a British brand that has seen astronomical growth since its launch in late 2018.
Specializing in manufacturing British standard professional-grade beauty tools and skincare products, the brand is committed to using only the finest materials and craftsmanship for all of its products.
As hygiene and precision are always the highest priorities of its founder, Rebecca Crawford, it was decided that the tools would be made using a unique titanium coating. The titanium coating would give each tool added strength and durability, with the added benefit that bacteria are unable to adhere to it —  It also gives them their signature gold coloring. The range of manicure tools and skincare products is designed to meet the needs of professionals and beauty enthusiasts alike and is trending worldwide for both its aesthetics and quality. 
Navy Tools literally exploded onto the market a few years ago and has immediately created a cult-like following amongst top manicurists. Their tools are used and proudly displayed by some of the most prominent celebrity nail stylists in the UK. Their star tools Ethel, Doris, Katey and Helen are a must when manicurists such as Sophia Richie's go-to nail pro Georgia Rae are working their magic on their high-profile clients. 
Now, this globally renowned beauty brand will finally be available for purchase in the US and Canada  by professionals and consumers alike as a result of their exclusive distribution agreement with Bio Sculpture Canada.  
Bio Sculpture Canada's CEO Erica Nieuwenhuis welcomes Navy Tools to the USA and Canada and shares that  "It is a very exciting opportunity to partner with another premium-quality luxury brand holding similar values of ethical manufacturing and sustainability. Their name and brand have become synonymous with luxury manicures/pedicures, quality and sophistication."
One of the things that sets Navy Professional apart is its commitment to using only vegan-friendly ingredients in its skincare products while also sourcing many of its skin ingredients locally. This means that consumers can enjoy the benefits of the luxurious skincare range, knowing that no animals were harmed in the process, and also support the local economy.
With a global reach that spans more than 100 countries worldwide, Navy Professional has become a firm favorite among beauty advocates and enthusiasts alike. Their fans include both A-list celebrities and world-renowned manicurists across the globe. With a focus on quality, innovation and ethical production, Navy Professional is a brand that is making its mark in the world of beauty.
Navy Tools are proud to be: 
locally sourced
supporting independent women led businesses
a family ran business
ethically sourced
supporting British manufacturing
Navy Tools is available now in the US and Canada on Bio Sculpture's website.