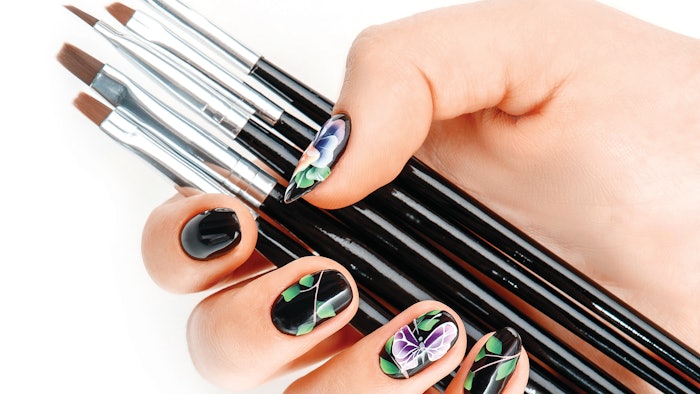 You have studied the techniques. You have got the talent. And yet—something is a little…off. Could it be your brush?
As the common denominator to nearly all nail services, brushes make a whole world of difference in how you apply acrylic, gel, nail art—even traditional polish.
"Choosing the right nail brush is such an important step in advancing your nail journey," says Ohio-based Lorenz Medina, creator of LBC Products. "Our nail brushes become an extension of our bodies." He explains that as you become more in tune with your work, your focus will shift to improving your consistency, timing and quality of your work. "Starting off using the right brush will help you get to your goals faster!" Medina reasons.
If you spend too much time with a bad brush, you will do yourself more harm than good. "Working with bad tools in general will just slow you down and interrupt your creative flow," explains Celina Rydén, Light Elegance Brand Ambassador and founder of Moonflair Nail Products in Sweden. "Your tools should be an extension of yourself and not something that works against you."
So, what should you look for in a brush?
Check out Nailpro's March 2022 digital magazine where we quizzed our pros on their brush knowledge so your brush with success is an easy one. Learn how personal preference affects decisions, what to look for in a brush, how much it will cost and tips for caring for your brushes.