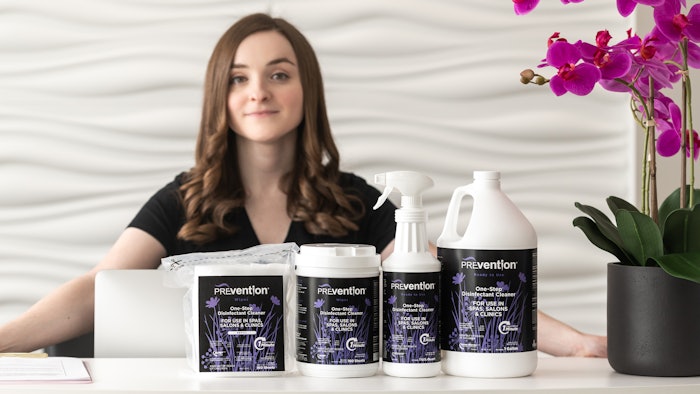 Virox has launched Prevention Disinfectants, a line of EPA-registered, hospital-grade disinfectants formulated for beauty and wellness professionals. This disinfection solution has the ability to kill viruses, bacteria and fungi in as little as one minute. Formulated with Accelerated Hydrogen Peroxide (AHP), Prevention delivers quick, effective and safe cleaning between appointments. 
Virox designed Prevention Disinfectants with a modern look to complement beauty professionals' workspaces and reception areas. In addition to ready-to-use disinfectant sprays and wipes, Prevention is available in a refillable wipes format that uses 90% less plastic.
The new line is gentle on users and surfaces, and is being distributed by Universal Companies. 
"In a busy spa or salon, beauty professionals don't have time to let germs slow them down," says Dan Woolford, Virox Senior Director of Sales and Marketing. "The Prevention formula is hospital-grade and kills germs faster than any disinfectant on the market, including our previous AHP powered products to provide the industry the speed it requires to meet their client needs, particularly as we recover from the pandemic."