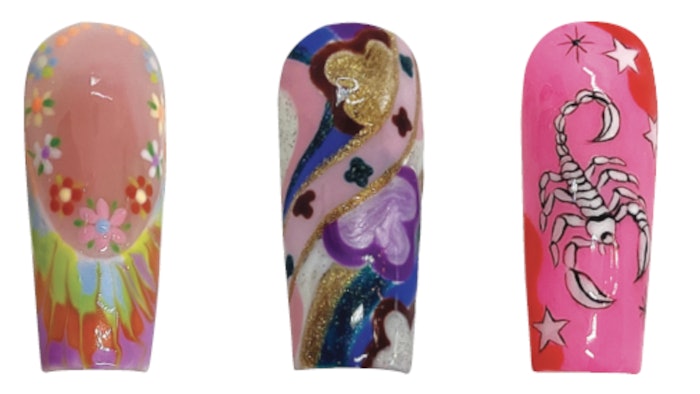 Courtesy of Stacey Manchin
Women of the 1960s viewed Don Emilio Pucci's dizzying geometric prints as a staple of resort glamour.
The designer's busy, psychedelic designs have since become synonymous with that decade's sartorial identity.
From swimwear to scarves to shift dresses, today's social media influencers still pine for Pucci patterns, like a head-to-toe rendering of an astrological chart or a spangled clover-print gown. Although Pucci's print-powered DNA remains intact, the brand's techniques and fabrics have evolved—lush 3D quilting and cutouts only add to the visual vertigo.
Of course, such pattern play can inspire amazing nail art. For her Pucci-inspired nail designs, nail artist Stacey Machin isolated certain details, like a scorpion as a nod to the Scorpio astrological sign, to simplify patterns. Tie-dyed tips edged by a smattering of daisies is a subtle nod to the mania of a Pucci design. That's the beauty of pattern play—You can go as wild or as tame as you like.
You can see the runway looks that inspired U.K.-based nail artist Stacey Machin's nail designs by reading Nailpro's March/April 2023 digital magazine.
About the Artist: You can find U.K.-based nail artist Stacey Machin (@staceymachin) at Nails by Annabel in Newcastle Under Lyme. Machin is inspired by Renaissance paintings, vintage tattoo styles and psychedelic patterns.