Say the Valentino name, and refinement, elegance and alluring artistry all immediately come to mind. Every single Valentino piece contains a delicate beauty—even when a black panther circles the legs of a slim-fit column dress, the effect is graceful and polished. Often working with layers of gossamer tulle and lace overlaid with the most meticulously placed swirls of glistening sequins or smooth leather, the label's designers seemingly capture what it is to look the part of a princess—albeit, one who is distinctly self-sufficient and wholly of good taste. And of course, the dizzying nature of a Valentino floral print or appliqued gown certainly cannot go unmentioned; both are signature to the brand—and both make stunning inspirations for nail art. Guest nail artist Megan Martinez honed in on how brilliantly the Valentino aesthetic blends the art of nature with the luxury of beading and shimmer (witness a downy white bird drifting in a glistening polish pool), as well as the hazy allure of lace and leather appliques—a stunning mix for lengthy tips.
About the Nail Artist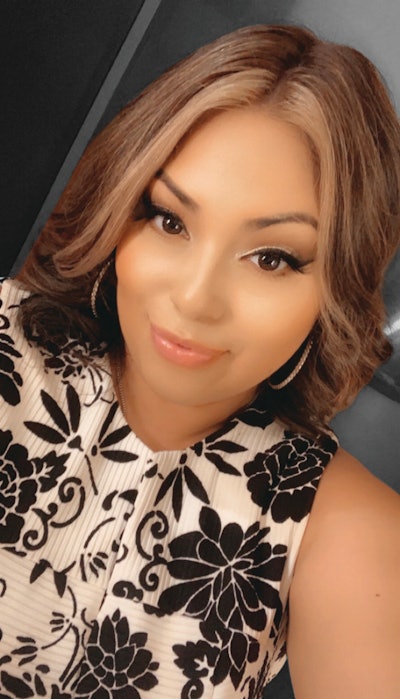 Known as @Megan_Thee_Naillian on Instagram, San Antonio, Texas-based Megan Martinez says, "No matter how long or short the nail is, there is always room for imagination; do not forget the top coat."
This article was originally published in the May 2022 issue of Nailpro magazine.