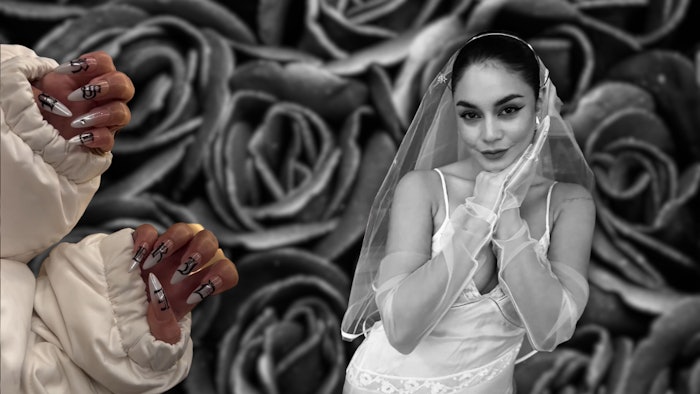 Courtesy of Zola Ganzorigt
Nail artist Zola Ganzorigt recently styled Vanessa Hudgens nails for her bachelorette party in Aspen, Colorado. 
Her look paid homage to her fiancé, Major League Baseball shortstop Cole Tucker. 
Ganzorigt (@nailsbyzola) created a nail look that featured long, almond-shaped nails with an ombré French base with a gradient transition from white to nude. On top of the base were gothic letters painted in black — one per nail — spelling out BRIDE on her right hand and MRS. T on her left. The only finger that didn't have a letter was her left ring finger, appropriately, which featured a gem instead. 
While understated looks have been the norm for wedding and proposal nails, Hudgens gothic nails may prove to be the start of a new, emerging trend.
You can see Hudgens nail look below, which Ganzorigt shared to her Instagram page.