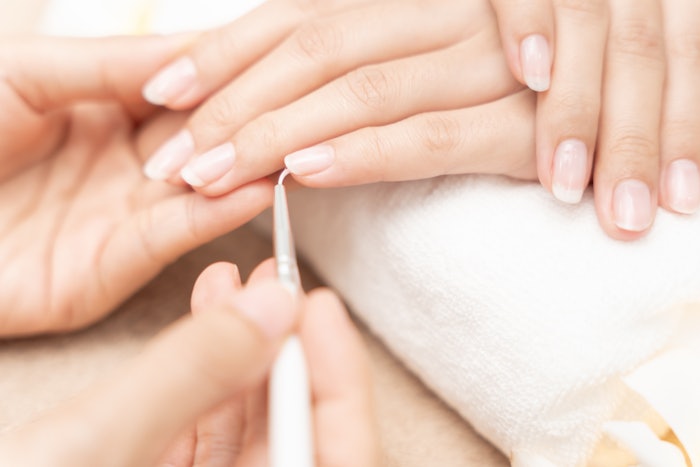 Ahead of the final season of "The Crown," Fresha London shares their prediction that Princess Diana's pearlescent manicure will make a comeback this fall.
The brand analyzed over 500 of the most-liked fall manicures on TikTok, Instagram and Pinterest, finding the ideal seasonal nails feature a neutral base color, minimal nail art and a glazed topcoat.
According to the data, the most picturesque fall nails should be painted one color - ideally nude or white - and be short, with chrome proving the most popular embellishment. 
The research shows going for an understated and natural base is the norm, with a fifth (20%) of creators choosing nude, while the second-most popular color came out as white (featured in 11% of posts) and one in ten (10%) opted for a French manicure instead.
The research also revealed there was a huge preference towards shorter, rounded nails compared to the longer stiletto or pointed shapes that were prominent in summer, as there's a seasonal shift towards simplicity as the weather gets colder.
With all eyes on the royals for fashion inspiration, it turns out that Princess Diana was the most fashion-forward when it comes to nailing an on-trend fall manicure this year, as she frequently layered a pearlescent topcoat over a classic French tip.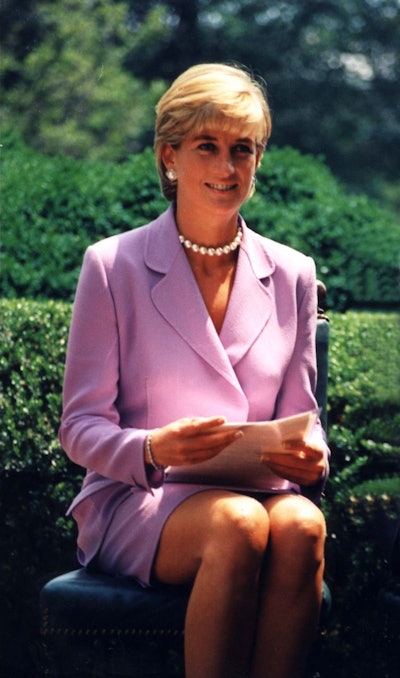 Glazed nails have dominated on TikTok over the last year, having been popularized by the likes of Rochelle Humes, Jennifer Lopez and Millie Bobby Brown - who sported glazed doughnut nails when announcing her engagement to Jake Bongiovi back in April. 
Interest in the trend shows no sign of slowing, with TikTok videos under #glazednails attracting over 66 million views — 774k of which are from Americans over the last week alone. 
The trend — also known as chrome — has gone through various iterations since summer drew to a close, including darker mirror glaze nails reminiscent of an antique mirror and glazed chocolate nails incorporating brown tones for the fall, as seen on Hailey Bieber. 
While brown and brown-reds are also being backed as the must-have shades for fall with cherry mocha nails, it seems that some celebs still prefer simplicity, as Victoria Beckham and Selena Gomez were both spotted sporting milky white manis recently. 
Those who want to pair the simplicity of a milky white manicure with the glossy appeal of glazed nails should turn to Princess Diana for inspo, as her mid-90s French tip topped with a pearlescent topcoat is due a comeback.  
"Princess Diana was synonymous with daring style," a Fresha London spokesperson shares. "While she's most commonly associated with the scarlet polish she wore with her revenge dress, she was ahead of the curve with her neutral nails." 
While adding a glazed topcoat to a neutral shade is a great way to make nude nails more up-to-date, those looking to update their glossy manicure for the colder months might want to consider opting for a pearlescent topcoat instead, like Diana, as it will work to add a seasonal frosty feel to the design. 
Here's some tips for how to bring the look to life: 
Consider your undertones when choosing a nude polish. For those aiming for a frosty look, picking the right base color is key, otherwise, your manicure may make you look washed out. Warm tones should opt for warm undertones (such as peach instead of straight white), while cool undertones may want to go for a greyer white.
Apply one layer at a time and leave plenty of time to dry. When mastering a layered look like Diana's frosted pearl manicure, you want to ensure that every layer is fully dry before adding the next. Otherwise, you may notice your end result is bubbled or creased or smushes entirely when touched. 
Use your pearlescent topcoat sparingly. The key to mastering the 'frosted' look is to avoid layering the pearlescent coat otherwise, the lustre will become too opaque, and the French tip or nude base beneath will disappear. Less is more, and you can always add additional coats if you're unhappy with the first pass.