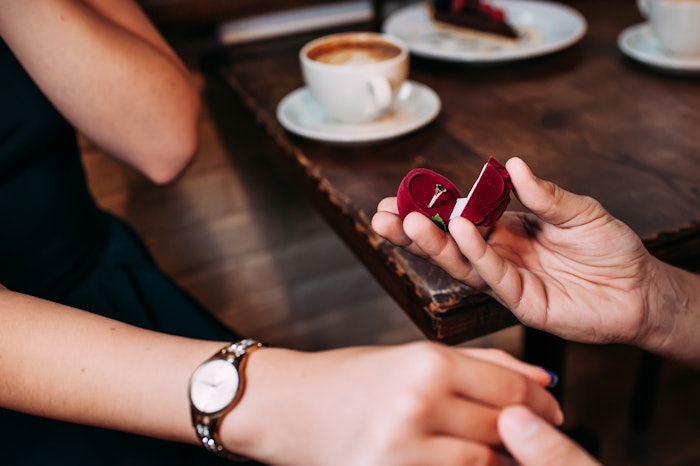 What is the perfect proposal manicure for those who suspect they'll be popped the question? 
 To find out, Beauty and wellness marketplace Fresha London analyzed posts tagged #proposal and #engagement across Instagram, TikTok and Pinterest to determine the most common design elements for a proposal manicure. 
According to the research the marketplace compiled, the ideal manicure features a nude base and a square nail shape. It should only feature one color - although those who want to be more on-trend should consider adding chrome. 
Going for an understated and natural base is the norm, the research shows, with a fifth (20%) of fiancés choosing nude, while the second-most popular color came out as white (featured in 11% of posts) and one in ten (10%) opted for a French manicure instead.
However, there's good news for those who prefer something less understated, as also among the most popular colors were red (7% of posts), black (6%) and burgundy (6%).
The least popular but still prevalent colors were opulent choices like gold and purple - which appeared in less than 1% of posts - and cold tones like silver, grey and blue.
Favoring a natural and neutral base can help make your proposal pictures pop. 
"The main benefit of selecting a nude or light nail color when you suspect you're getting engaged is that it means there are no brash colors or designs to distract from your ring - which should be the main event," a Fresha spokesperson shares. "Of course, for those who are completely surprised, other fall colors like burgundy, red, and black will still look great - but they might steal some attention if your ring is silver."
There was also a huge discrepancy in nail shape across the social media uploads, although this is primarily due to preference, with the majority of posts showing mid-length square nails (26%) and then pointed (15%), while the least popular shape was - surprisingly - coffin (2%).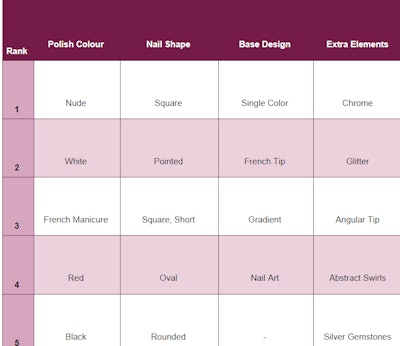 "Nail shape is less of a key consideration for many compared to color, as it's just as likely to be influenced by your day-to-day life - for example, if you use your hands a lot - as it is your personal preferences and how you prefer to convey your style," Fresha shares. "However, if you want your ring to be the focus in your proposal pics, you may want to swap out a more attention-grabbing style, like stiletto or pointed, for something softer, like a shorter square or rounded shape - which will look even better when paired with a nude polish."
So, after you've painted your nails nude and filed them to a square, what can you do to add a bit more personality? It turns out that the best move is to make them chrome, as this was the most popular choice for those who opted for more than the base color (25%).
Other common design choices were to add glitter (17%) or abstract swirls (9%), although those who'd started with a French manicure decided to spice theirs up with an angular tip.
This is great news for those who were fans of the 'cool-girl' chrome manicure trend that started in spring and was popularized by the likes of Hailey Bieber and Dua Lipa.
"The main benefit of making your manicure chrome is that it's an easy way to add some personality and to bring it up to current fashion without completely changing the neutral and demure vibes you started with," Fresha explains. "All adding chrome to a nude or white manicure does is add some sheen and reflection without making the base color unrecognizable - meaning you get the best of both worlds!"