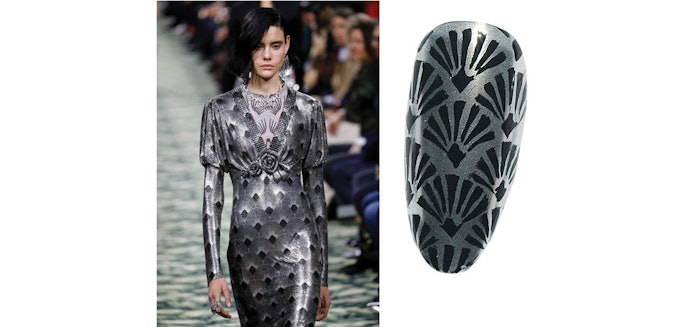 When Paco Rabanne established his fashion house in 1966, no material seemed off limits. Metal, plastic and paper—initially glued or wired together—became preferred mediums for his fantastical, often future-forward creations. He draped heavy chain mail into skimpy cocktail dresses and frequently cobbled together shifts made from flat metal and plastic paillettes locked into a network of peeka-boo slats. Today, his fashion house lives on under a rotating cadre of designers, all updating the wild visions of Rabanne's futurism using those same mixed-media staples—metal, plastic and oodles of chain mail—with modern-day techniques and technology. The allure of these wearable art pieces certainly translates to nail art; witness guest artist Ayumu Takasawa's subdued takes on these extravagant fashions. She carries through the idea of chain mail with a solid chrome background and teases out the transparent qualities of plastic discs or crystals with iridescent polish and negative-space designs. And when paillettes go fuzzy (as they did at the Fall 2018 runway show), Takasawa dotted a nail with textured spheres on a prismatic base—a perfect ode to the master of mixed-media fashion.
One of the leading Japanese celebrity nail artists working in the United States, Ayumu Takasawa counts Beyoncé, Madonna and Lady Gaga as her clients and is the senior nail artist at Vanity Projects New York.
For all the gorgeous nails created by Takasawa, check out the September/October 2021 issue of our digital magazine.