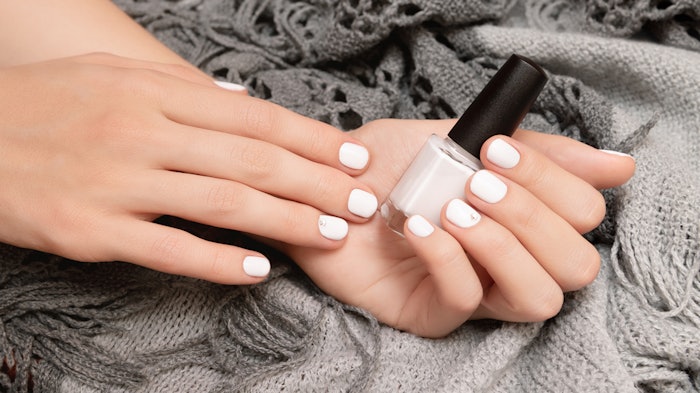 While moody, dark tips have long made an impact, particularly in the winter, donning stark white on tips and toes has become a major trend that works for anytime of the year. Fresh and oh-so-chic, white is the new neutral, and there's a shade for every skin tone. Worry that you won't be able to win over clientele with a heavily-pigmented chalky white manicure? Fear not! There are countless variations in the white category, think: sheer, shimmering, off white, eggshell, blue-white, milky pink and even glitter.
The only drawback to these bleached shades is that they can be tricky to apply. The key: ultra-thin coats. Don't worry if it looks streaky at first; it will smooth out in the end. But if you glop it on in thick coats, you run the risk of dark shadows appearing, more streaks and peeling later on. Start with base coat for smooth application. If you're working with ultra-white, apply a sheer coat of nude first, and allow that to dry completely before continuing with the white. This trick, combined with thin coats, will keep the color from streaking. Just remember when working with white: Always end your service with a non-yellowing top coat so that the color stays pure between appointments.
The variety of colorless color also makes art fun. Play with differing shades and textures to create subtle looks, or use it as a base for a pop of color. Here, we feature a selection of white designs to get your creative juices flowing courtesy of Korean nail artists Song Sunhee, Choi Suhyun, Kim Minah, Cha Yena and Hyun Heejin, as well as the shades you need to recreate them. 
To get inspired by all the white designs, please visit Nailpro's January/February digital magazine.