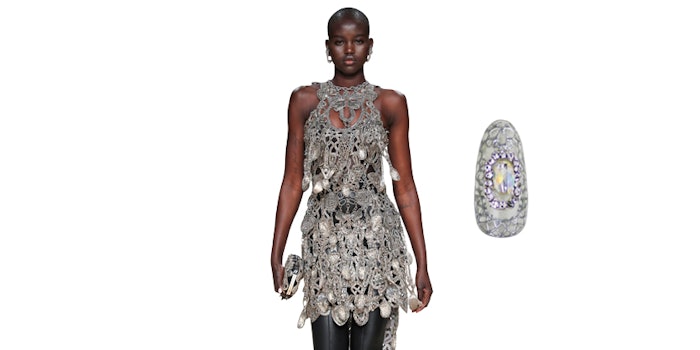 What happens when you marry the lacy elements of filigree with the decadent gleam of metallic on the female form? A mix of stunningly ornate pieces that reflect from every curve—and not a moment to soon: Such brilliant beauty is needed during the darker months. At Versace, a green chainmail mini dress overlaid with a network of sequined mesh mimicked the interior of an agate crystal. Literal chains linked together a web of silver beaded appliqués that shimmered and shook with each step on the Alexander McQueen runway. Streams of metal chains (at Area) or beads (at Oscar de la Renta) fluttered delicately, yet scattered light with abandon. And at Paco Rabanne, where collections are built around metal, a modern-day Joan of Arc presented in her armor: a chainmail sheath spangled over baroque lace that seemingly dripped in molten silver.
Metallic is no stranger to nail art: It likely holds court in your manicure arsenal. But creating elaborate, lacelike designs with it might not be your go-to. No worries; guest artist Gina Marie Kent shows you how to sparkle with creations that incorporate detail work using everything from polish to gel to striping tape.
For all the eye-catching looks, please visit Nailpro's January/February digital magazine. 
Artist bio: LA-based nail artist Gina Marie Kent (@fresh.claws), who apprenticed under (and eventually worked for) Natalie Minerva at Nail Swag, has had her work featured in Allure and on "Good Morning America," and has created nails for celebrities Lizzo and Doja Cat.