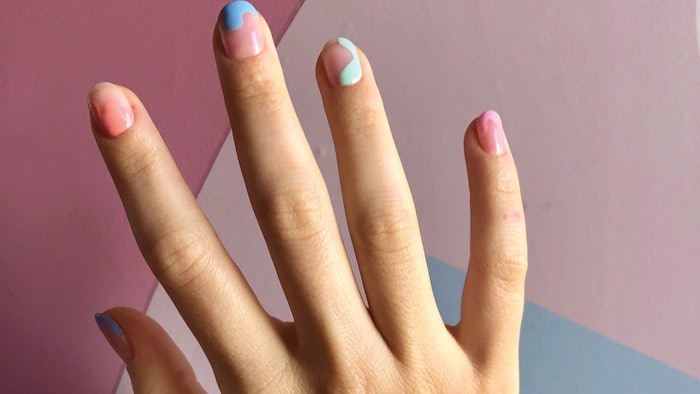 Nail art is booming once again in Italy. Gender neutral and super colorful, these amazing and eye-catching nail looks are popping up everywhere on artists, influencers and celebrities—men and women. And Isabella Franchi (@unghiedellamadonna), a nail artist based in Milan, Italy, has found herself in the middle of it all. Her rise to fame came after adorning the nails of Italian mega-influencer Chiara Ferragni and her musician husband Fedez. The power couple were spotted wearing his-and-her manicures with matching happy faces and Pokémon characters, courtesy of Franchi. Here, we talk with the creative visionary about nails, her inspiration and Italian beauty trends.
NAILPRO: You are one of the newest and most-appreciated nail artists on the Italian scene, creating nail looks for artists, influencers and celebrities. How did you get into a career in nails?
Isabella Franchi: I was born in Imola, a small town in Northern Italy, close to Bologna. I completed my degree in fashion studies and later moved to London to work as a visual merchandiser. There, I started visiting local nail salons and developing my passion for nail art as a customer. Once I moved back to Italy, I looked for nail professionals who would do nail art, but I couldn't find anyone in Milan who could recreate what I was looking for. Eventually, I decided to do my own nails, and then I started experimenting on friends and friends of friends. That's how I started in nails. After that, I decided to quit my full-time job in retail, and I'm now a freelance nail artist.
NP: What's your favorite nail length and product to use in your work?
IF: I mainly work on short, natural nails using gel polish. I find short nails to be more wearable and certainly more functional, but I still wanted to find a way to make them look pretty. I do a lot of free-hand brushwork and I occasionally use stickers. I don't use traditional gels or acrylic. I sometimes prepare press-on nail tips, but that's only when I'm doing very elaborate looks for photo shoots and editorial work.
NP: How would you describe your signature style?
IF: I would define my style as genderless, playful and custom. My most iconic design is flames, which I paint on the free edge of the nail, overlapping onto a full-color base. Happy faces and tattoo-inspired art are also very popular among my clients.
NP: Can you describe your creative process? How do you develop an idea and put itinto shape?
IF: When I work with brands or for editorials, I'm usually given a mood board and I develop my sketches based on that. With a background in fashion, iconographic research is essential to me. For my regular clients, I don't usually choose a design for them. Rather, we work to develop an idea together. From there, again, I do a lot of image research. I rarely reproduce the same designs on different nails. I like to offer a tailor-made service to each customer, where the design is specifically formulated for them—it's a process not unlike how professional tattooartists work.
NP: Where do you find your inspiration?
IF: I explore various sources that I'm passionate about: fashion, art, design, tattoos and Japanese manga cartoons. But I also find inspiration in interesting and unexpected things that I see in everyday life, such as a pattern of an Ikea pillow or a particular tile in a hotel room. I take a lot of pictures, which become my personal source of inspiration. I also look to various music icons; I love Dua Lipa and Gwen Stefani for their unique sense of style.
NP: You often create nail designs on both women and men. Do you find that creativity has nothing to do with gender, age and traditional references?
For the full interview check out Nailpro's January/February digital magazine. 
Author bio: Chiara Tentori is a freelance writer and former editor-in-chief of Beauty Forum Nailpro based in Milan, Italy.