Banking on the fashion set's collective love of all things shiny, designers drenched gowns, dresses and even suits in all manner of silver, pewter and gold (think: beads, jewels, sequins and studs). The effect was at times glamorous and at others futuristic—yet in every instance rich as can be. Artfully arranged mirrored paillettes in a multitude of shapes spangled an Alberta Ferretti column gown, transforming the wearer into a chic disco ball. Equally appropriate for a dancing queen: Altuzarra's one-shoulder midi dress, gilded with tiers of shimmy-perfect pleated gold lamé. Borrowing from the 1980s, designer Jeremy Scott sent out an auriferous star-sequined gown that positively twinkled with each step. Less "Dynasty" and more Gatsby, a pewter-encrusted coat at Dolce & Gabbana only added to the blinding gleam of a gold brocade tuxedo—the definition of a power suit if ever there were one. And like with fashion, nails certainly shine when decked in metals—the heavier, the better. Guest artist Tracey Lee is no stranger to gilding nails to the nines; she's helped construct some of the most brilliant nail art for New York Fashion Week as part of the CND Design Team. Follow her gilt-y lead: Tap into bullion, Mylar, glitter and rhinestones, and be sure to mix sizes and textures for maximum effect. For even more contrast, partner glitz with a matte finish to make sparkling elements pop.
RELATED: Chelsea King Creates Dark Romantic Tips Inspired by Runway Fashion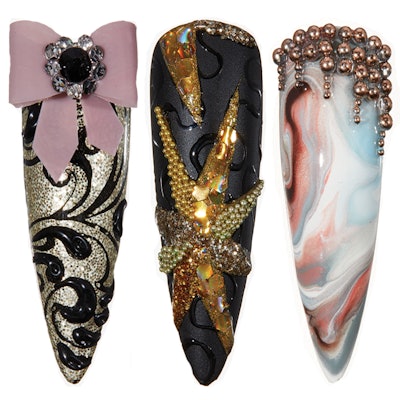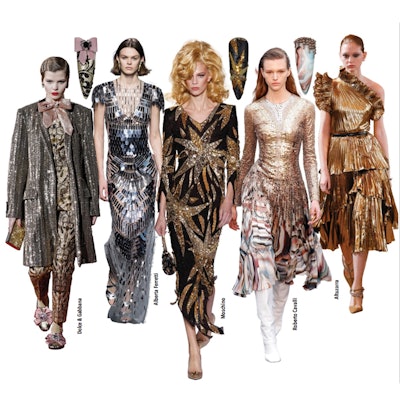 RELATED: Asa Bree Sieracki Creates a Trio of Camp-Inspired Tips Straight from the Runway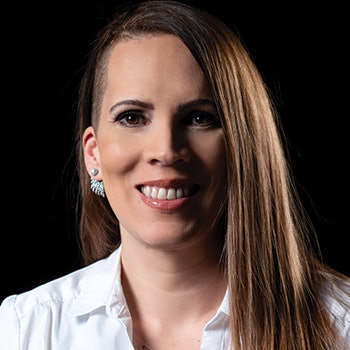 Guest Artist: Tracey Lee works as a global educator, coach and contributor to various trade magazines, and recently launched her new online education venture, Beauty2TRS.
–by Karie L. Frost
[Images: Courtesy of Armando Sanchez; Tracey Lee, Getty Images]
This story first appeared in the January issue of Nailpro magazine. To receive the magazine, click here to subscribe.