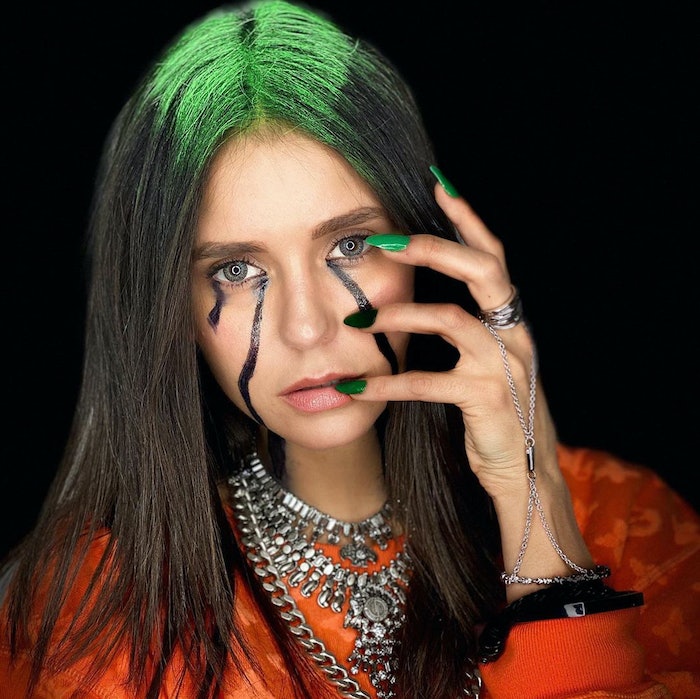 Spooky season has come and gone, leaving us reminiscing about our favorite celebrity Halloween costumes and the nail looks that added the frightening touches. We present ghoul-like nail looks worn by Kylie Jenner, Kourtney Kardashian, Cardi B and more—courtesy of sought-after nail artists Chaun Peth, Jenny Bui and Kimmie Kyees. Enter at your own risk.
RELATED: Readers Submitted Trick-or-Treat Ready Nail Art
 

View this post on Instagram

 
Nina Dobrev wore almond-shaped talons, painted multiple shades of green to match her moss-colored roots for a gradient nail look to finish off her Billie Eilish persona.
RELATED: Chaun Peth Shares His Favorite Halloween Costumes
 

View this post on Instagram

 
Singer and artist Demi Lovato dressed as a deathly rag doll, complete with blazing red-colored contacts, a white ruffled dress and black stiletto tips.
 

View this post on Instagram

 
We did a double-scroll before we double-tapped Pattern Beauty CEO and founder Tracee Ellis Ross's Us costume, complete with the golden scissors held by white-manicured hands.
 

View this post on Instagram

 
Peth tended to Cruella de Vil—we mean Khloe Kardashian's nail tips using Tammy Taylor in milky French Vanilla as the base and Ferosh Black for the Dalmatian spots. Our favorite Dalmatian was of course, baby True.
 

View this post on Instagram

 
We can't forget to showcase Peth's annual all-out Halloween costume, which he made entirely from scratch—per usual—featuring some bronze chrome pigment to dirty his cuticles and complete his Pinhead character from Hellraiser.
 

View this post on Instagram

 
Jenny Bui embellished her loyal client Cardi B's talons with blue and silver Swarovski Crystals over OPI gel polish to finish off her bad nurse ensemble.
 

View this post on Instagram

 
Whether she's a mystical fairy, Marilyn Monroe or Ariel, Kylie Jenner wore pink, square-shaped acrylic enhancements, finished with an iridescent chrome powder—courtesy of Chaun Peth of course.
 

View this post on Instagram

 
Kyees painted Nicki Minaj's almond-shaped tips with two coats of bloody burgundy polish for the rapper's Bride of Chucky getup.
We can't wait to see the Halloween nail looks of 2020!
—by Angelina Lewis