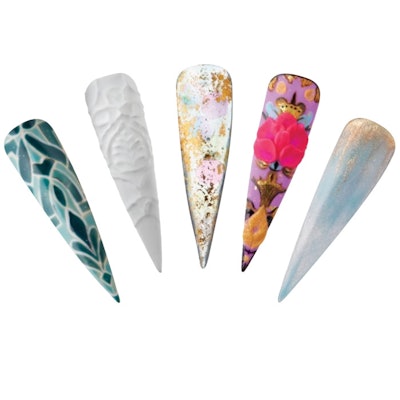 The exotic North African nation boasts intricate architectural details, twinkling lanterns and ornate textiles to inspire swoon-worthy tips. "We wanted to create an eclectic set that married the earth tones of Moroccan architecture with the bold colors of the decor." —Vivian Xue and Maja Stark, Pamper Nail Gallery, Fremont, CA.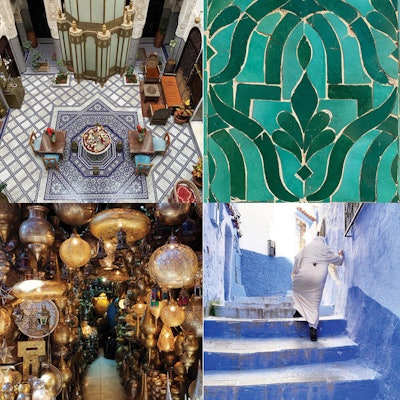 RELATED: Create a Marble-ous Nail Design with Christrio Nail Ink
Step 1. Apply two coats of pale peach gel polish.
Step 2. Use dark green gel polish to paint linear and floral shapes found in mosaic tiles.
Step 3. Fill in the space around the dark green designs with teal gel polish. Leave a small imperfect margin around the dark green gel to give a tiled effect.
Step 4. Use a striping brush to paint white "grout lines" around the dark green shapes. Add details with white and black gel polish to give the illusion of cracked tiles and specs within the grout. Finish with top coat.
PHOTOS: Readers Submitted Nail Art Perfect for Spring
Step 1. Create an overlay with blue jelly glow-in-the-dark acrylic.
Step 2. Add teal and clear acrylic over the base layer and gently swirl to create a marble effect.
Step 3. Mix turquoise glow-in-the-dark pigment powder with clear acrylic powder. Then, use small beads of wet acrylic to create an ombré effect starting at the cuticle area and working toward the free edge.
Step 4. Use a damp acrylic brush apply small amounts of gold chrome using downward strokes from the cuticle area. File and apply top coat.
*Cure after every gel application unless otherwise noted.
Bonus! Shine a UV or black light to see this tip glow!
–by Angelina Lewis
This story first appeared in the May issue of Nailpro magazine. To receive the magazine, click here to subscribe.
[Images: Courtesy of Erica D Green]