Saddle up, nail art pioneers: Fashion designers have once again hitched their style wagons to the Wild West. But rather than glorify this slice of Americana with punchy flag and cowhide prints, some designers chose to show a moodier side. At Coach 1941, head-to-toe onyx leather boasts enough braided detailing and fringe to content a Western goth. The leggy, fringe-trimmed black jacket at Philosophy di Lorenzo Serafini certainly befits a modern-day cowgirl, but the additions of a peek-a-boo white ruff and sleeves and that fashionista must—rhinestone-dotted tights—lend it a mysterious edge. If homesteader frills fit your clients' "Westworld" whims, there were plenty to go around, whether swishing prairie dresses at Coach 1941 or patchwork blanket skirts with cozy matching knit sweaters and thigh-high socks seen at Sacai. Nails that go West can stake their claim with your clients by following guest artist Alec Hinz's lead. Leather fringe paired with hand-sculpted acrylic details derived from the silver totems complementing Coach 1941's Western wares look both rustic and rugged, while hand-painted Native American patterns combined with an animal print inject a bit of color into the trend.
RELATED: Nail Art Inspired by the Glitter and Sparkle on the Runway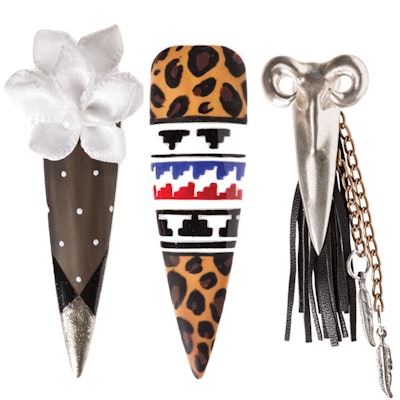 RELATED: Nail Art Inspired by the Silk Patterns Seen on the Runways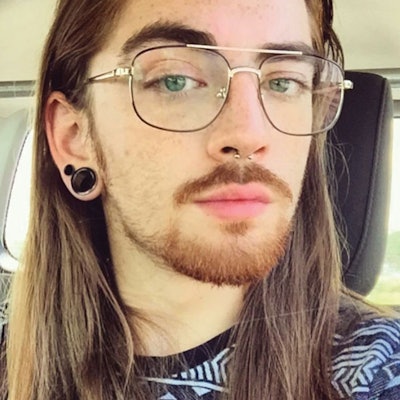 Guest Artist: Alec Hinz works at Finger Bang in Portland, OR, and specializes in sculpted acrylics and hand-painted designs.
This story first appeared in the February issue of Nailpro magazine. To receive the magazine, click here to subscribe.
[Images: Courtesy of Brooks Ayola; Getty Images]