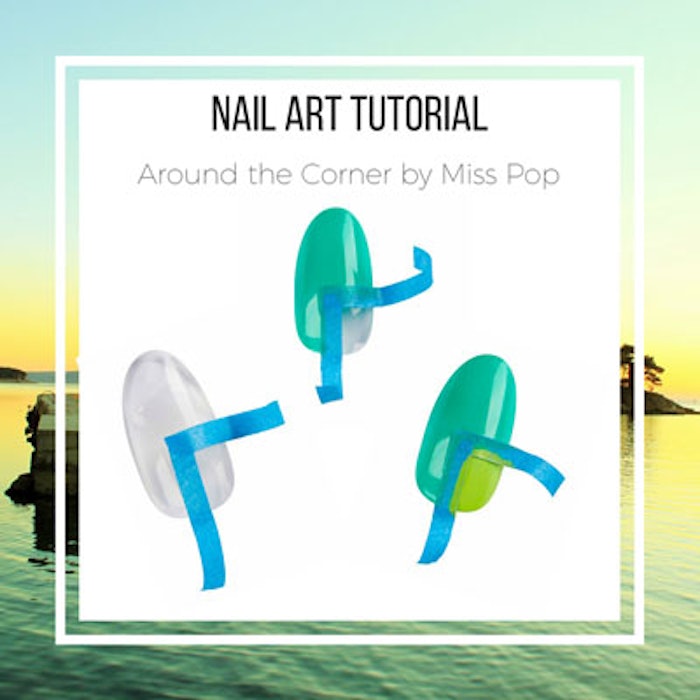 Simple nails with a geometric pop of color are what make this look one of our favorites for the season. Learn how to recreate this nail design by Miss Pop here.
Nail Art Tutorial: Around the Corner by Miss Pop
As most Nail Pro readers know, we're huge fans of Miss Pop. Whether she's creating a fun, retro look for Moschino or giving us some serious summer design inspiration, everything she does is pure gold. But we didn't have to tell you that now, did we?
The look below is simple in nature but is one your clients are sure to love. We love this geometric, two-toned design for summer and with its easily customizable color scheme, your clients will too.
Below, a tutorial and infographic to help you nail this artwork in no time.
Step 1
On a bare nail, place a small strip of 1/16″ painter's tape or striping tape up the center of the nail stretching to the middle. Be sure to leave a little extra tape hanging off on the skin so it's easy to peel off.
Step 2
Connect a second piece of tape to form an upside down L. Start at the top of the first piece of tape and seal the tape into the side wall by pressing in the corner with an orange stick or dotting tool. Be sure again to leave extra tape hanging off the nail so it will be easy to peel it off.
Step 3
Repeat steps one and two across your nails.
Step 4
Apply China Glaze® Strong Adhesion base coat around your tape. Don't paint over the tape completely.
Step 5
Paint one coat China Glaze® Grass is Lime Greener on the smaller square and one coat of China Glaze® Keepin' It Teal around the edge of the tape.
Pro Tip: It's better to go one coat at a time because the polish will dry evenly and it also helps the tape create a sharper line.
Step 6
Paint a second coat of Grass is Lime Greener and Keepin' It Teal.
Step 7
While polish is still wet but not tacky to the touch, gently peel the tape.
Step 8
Seal design with China Glaze® Fast Forward top coat.
Pin this tutorial for later!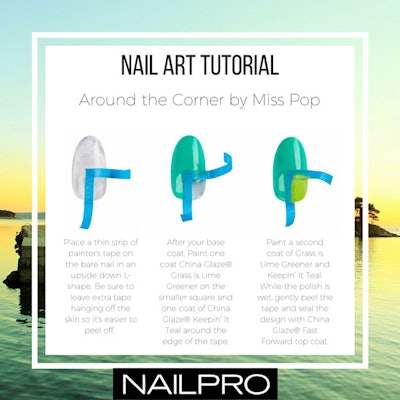 What do you think of this design? Let us know in the Comments below or on Facebook.