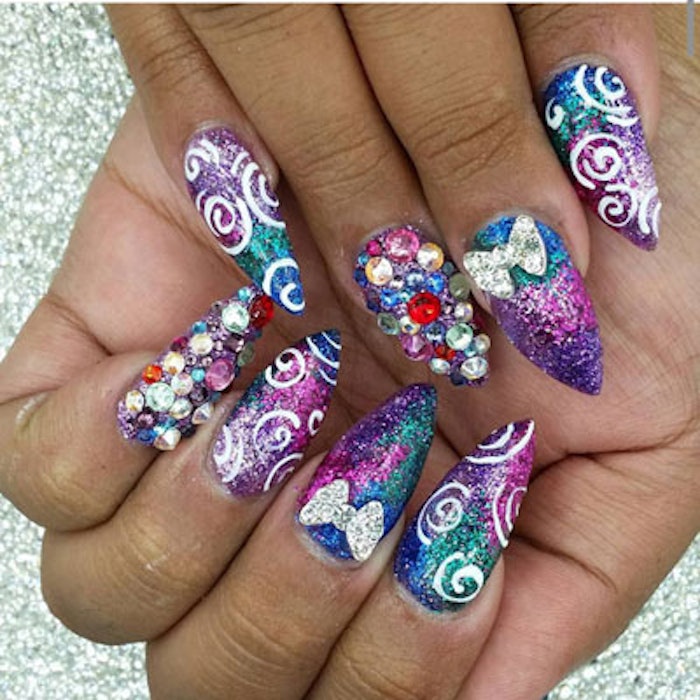 Get inspired by these beautiful readers submissions for Nail Pro's June 2016 issue! 
June 2016 Readers Nail Art
Haven't had a chance to buy this month's issue of Nail Pro yet? If not, you're missing out on some seriously talented readers submissions! To give you a taster, we've rounded up our favorites of the favorites to share with you. But don't forget that these designs are but a few of the many we feature in our magazine. Click here to receive a free copy of our June 2016 issue.
Without further ado, here are a few designs we loved this month.
1. Dazzling Orchids Nails
This design makes us want to wear stiletto nails all day long.
2. Retro-Inspired Polka Dots and Stripes Design
Brandy clearly had fun with this design and we love it!
3. Beautiful Bridal Nails
The pop of pink adds the perfect touch to neutral bridal inspired nails.
4. Los Angeles Sunset Glitter Ombre
If you're on the fence about ombre, let this design convince you otherwise.
5. The Nail Design Formerly Inspired by Prince
Inspired by Prince or not, these nails are everything we need to be the next big thing.
6. Furry Friends Nail Design
Lucy Chung could not have created a cuter nail design!
7. Not Your Grandma's Nail Art
This risky look is not for the faint of heart, but the payoff is incredible. We are stunned by this look from Nikki Diamond.
8. Talk Pop Culture to Me
Because we all have that one client that can't seem to get enough of it, right?
Which is your favorite design? 
To have your designs featured on our site and Instagram, use the tag #NailProdigy and we might feature your look as our #notd. To see the rest of June 2016's reader submissions, subscribe here!
[Images courtesy of nail professionals.]