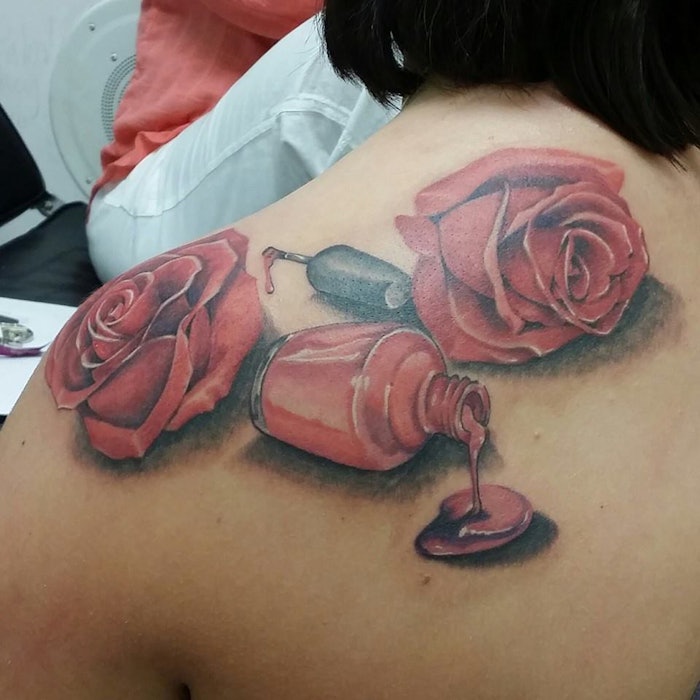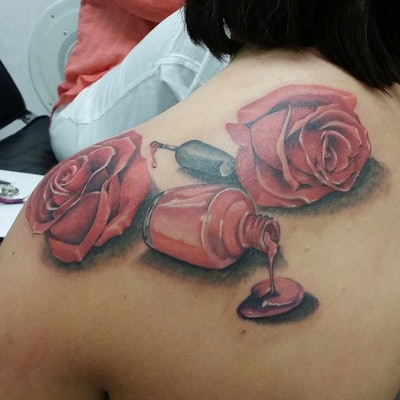 You guys really love your jobs! We found that an overwhelming number of Nailpro readers have ink paying tribute to their love of polish. Click through to check out our whole gallery of manicurists who adore what they do.
Pictured here: Sarah-Beth Oliver, cosmetologist specializing in nails at Cypress Nail & Hair Studio: "In love with my tat!"
Have a nail or beauty themed tattoo to share? Email your submissions to us at semick [at] creativeage.com!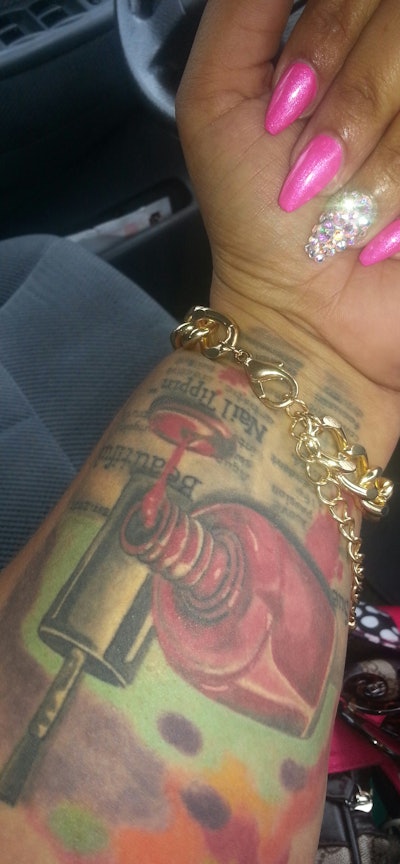 Tattoo from Suelynn Gillespie, nail artist in Indianapolis, Indiana known as @nailtippin.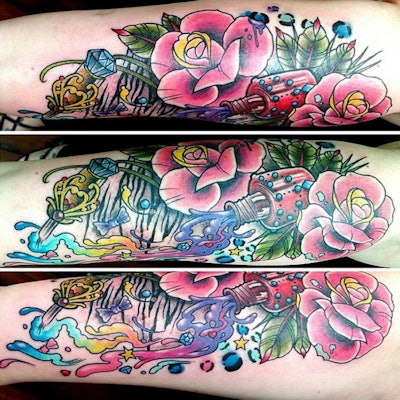 Nickie LaManna: "My nail polish/nail art tattoo."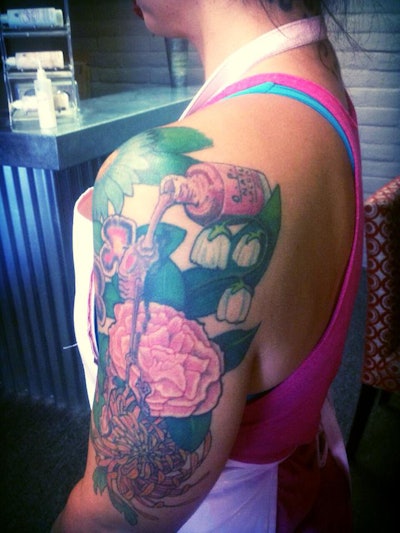 Onawa Rich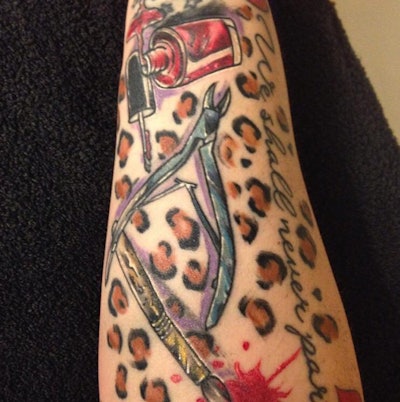 Charlene Cortez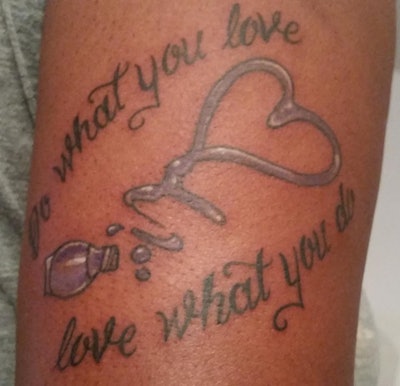 Jennia Lesha Wassermann of Elements Spa in Brevard, North Carolina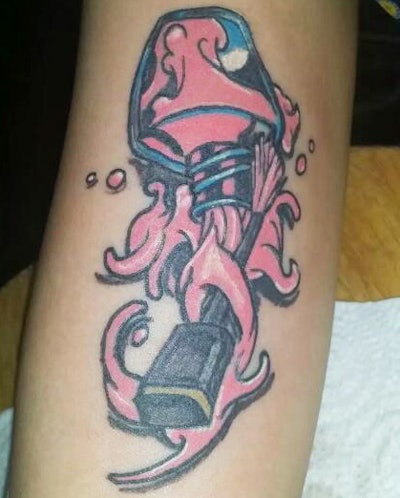 Brandy Fusitua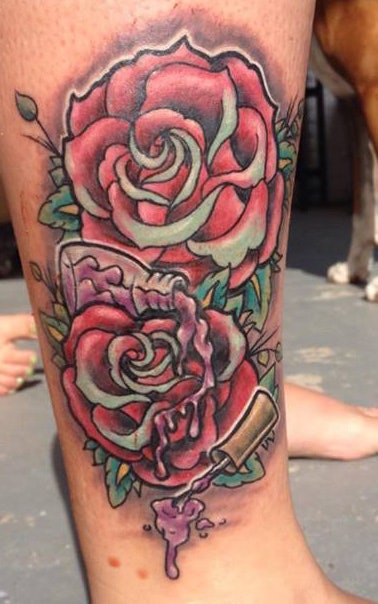 Becky Schwittay: "Nail polish spilling down flowers lol because I'm always dropping the bottles!"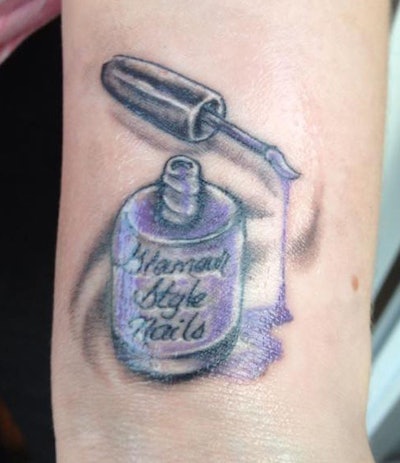 Angela Scott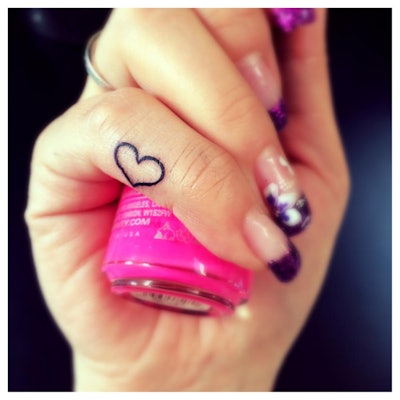 Amanda Daniluk: "I have a heart tattooed on my pinky (the finger I use to stabilize my clients finger while painting their nails)."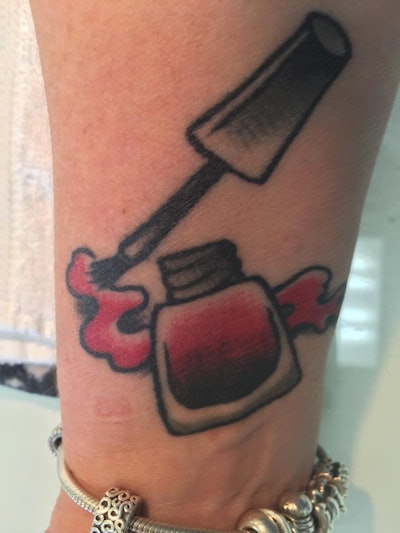 Kim Hale-Tucker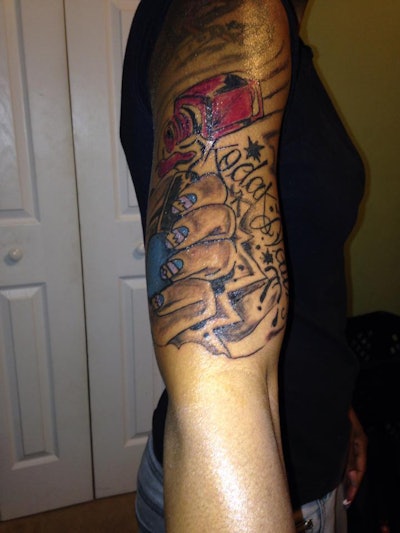 Tyra NaShae of @kodaknailz: "Not quite finished!"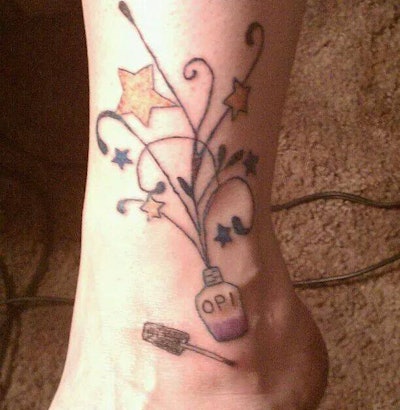 Laurie Meehan
Gina Irocknailz Gee: "#Irocknailz"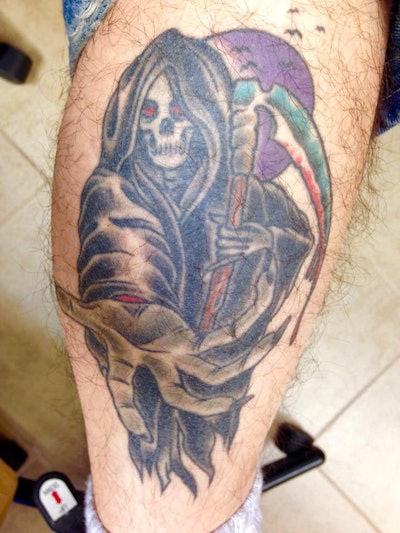 Daniel Nguyen: "Even Death gets his nails done."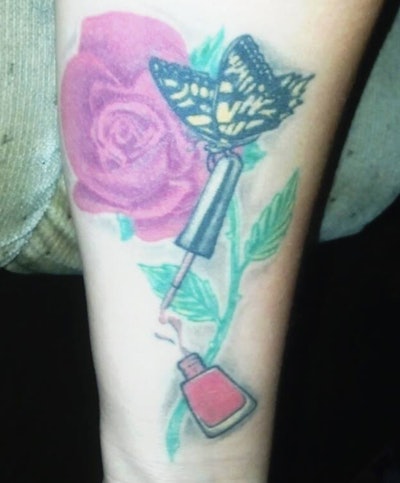 Stacey Lynn Stine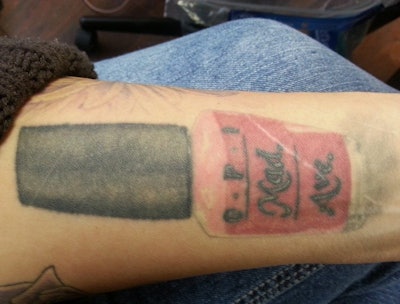 Jessica Lear Russell: "My OPI bottle…I got this while working at Madison Avenue. We called it Mad Ave. I added it so years from now when I can't recall much, I will remember where I got my start from!"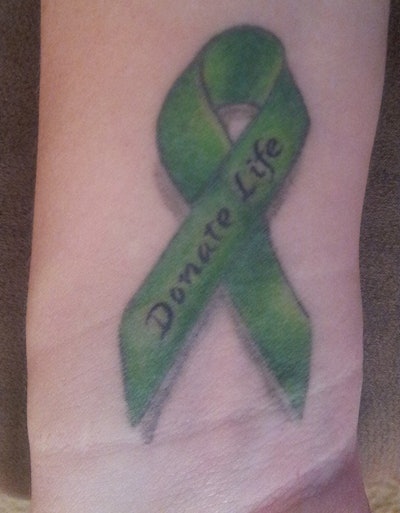 Paige Blankenship Butler: "Kidney donor ribbon on my wrist- it's on display during manis/pedis and I get to share my donor story with others."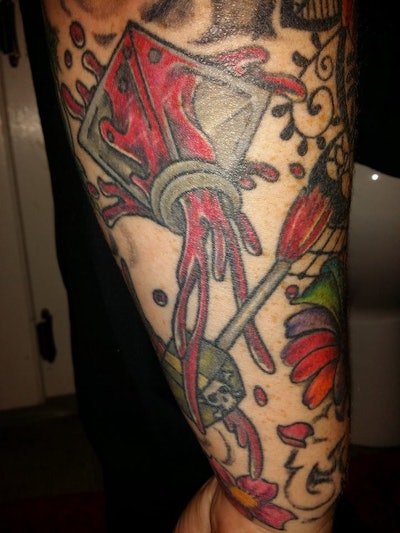 Nailed By Stacy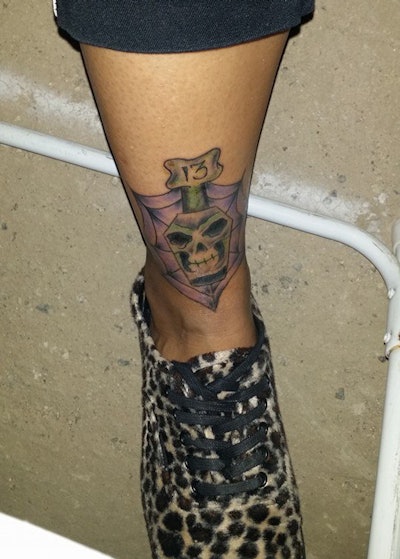 Deeana DeVille: "A coffin Nail Polish!"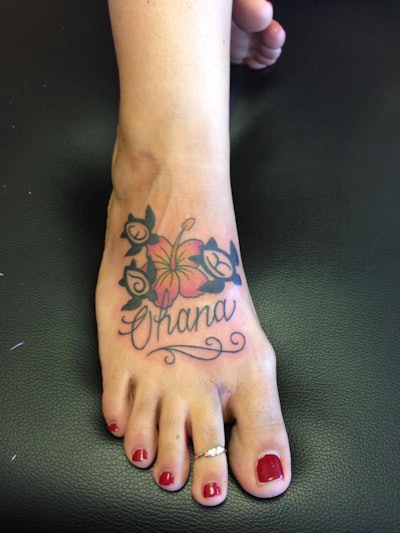 Emily Cobb: "On my right foot. My salon is called O'hana Day Spa."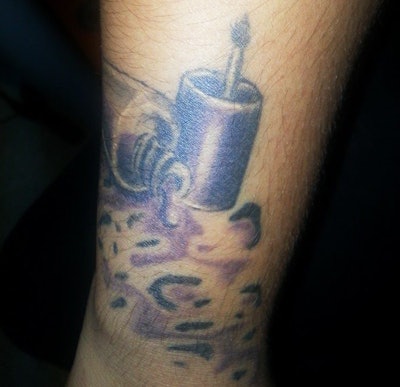 Ana Nailed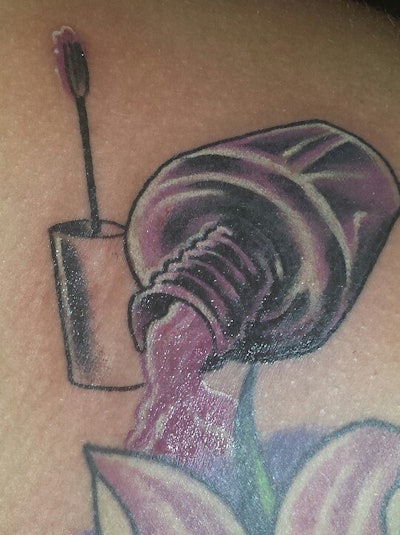 Kristy Dickerson Billings: "B' Polished!"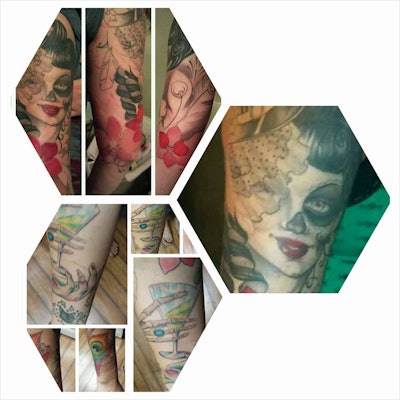 Alicia Pratt: "My sleeve!!" Apparently even the undead can still keep their (remaining) nails perfectly polished.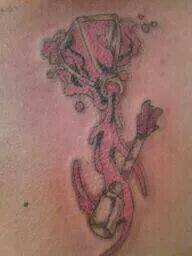 "Thatperson Tasha Danailtech": "I still have some more work to get done to it."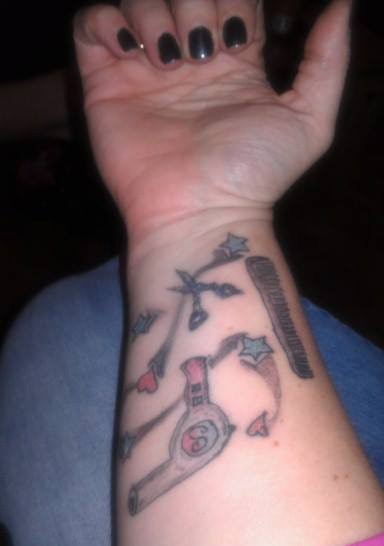 Shanna Siefkas: "Still adding to it."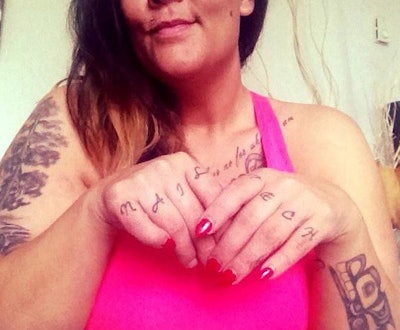 Nikki Humpherville: "I have a few. Lol."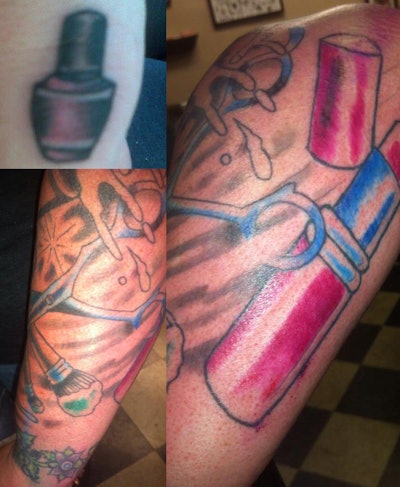 Amanda Lenher: "[A few] of many of my industry tattoos."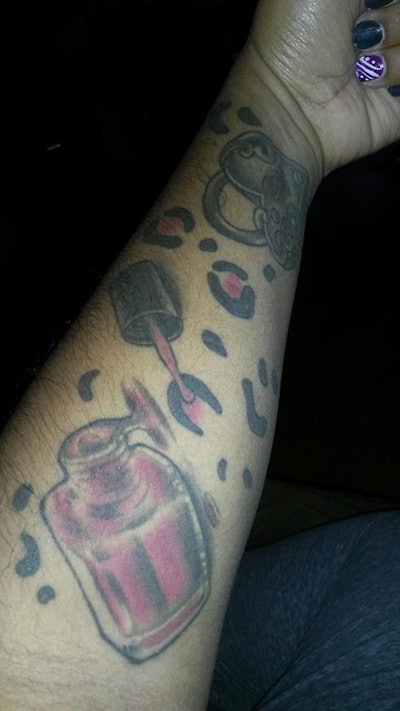 Vanessa Martinez: "I'm tatted with polish. Lol."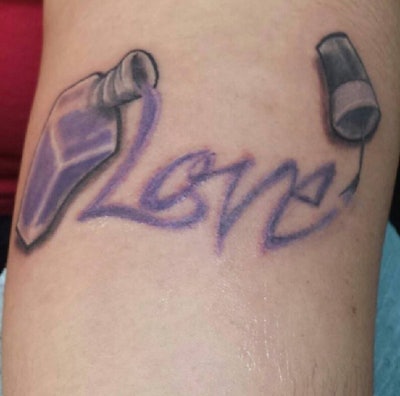 Jess Lynn Hall of @luvmylacquer, Beauty School of America

Stefania Koutsokosta, of Ecole de Beaute Make up/Nail Studio and Seminar Center: "It means 'My nails, my life.'"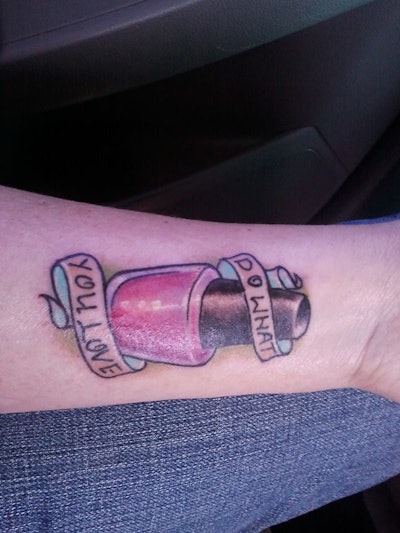 Caren Fransway Bryan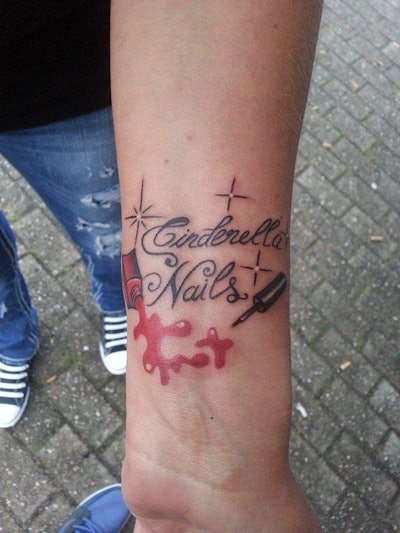 Iris Müller of Cinderella Nails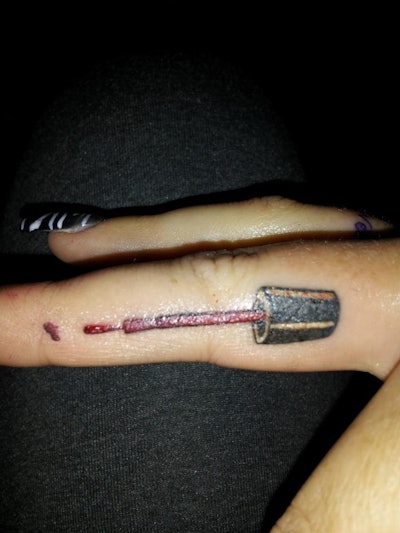 Marissa Keirsey, nail tech at The Classic Touch salon in Corning, Calif. – "Got this right after I got my nail tech license."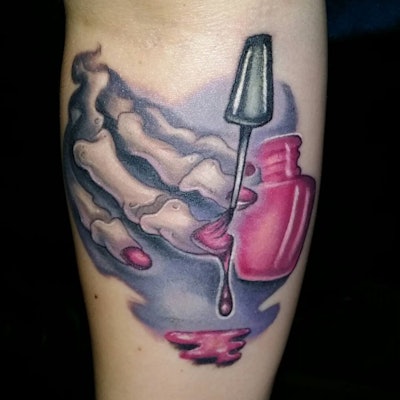 Shantell Bishop

Stacey Lynn Stine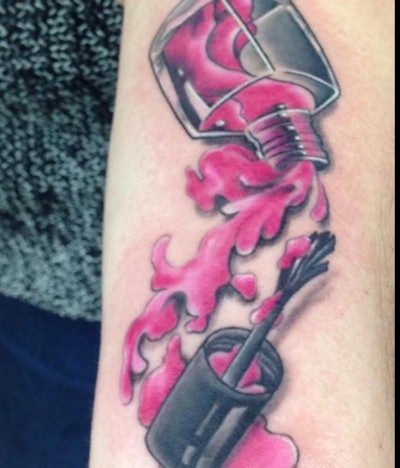 Debbie Dewilt Jensen: "On my forearm."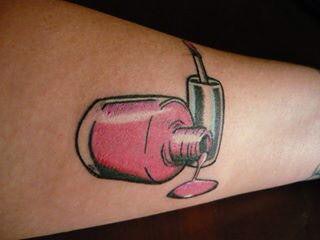 Jennifer Souders, Master Nail Technician/Reflexologist at Jen Just Nails It.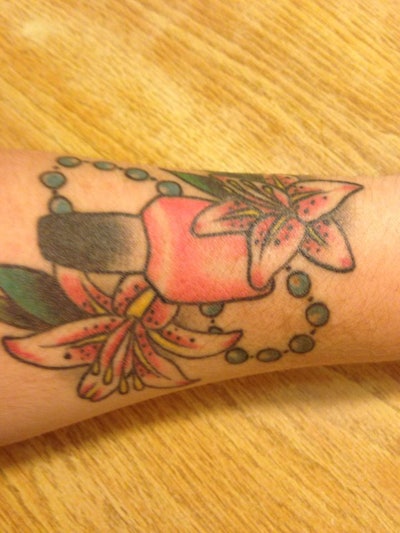 April Flamion, Roseburg Beauty College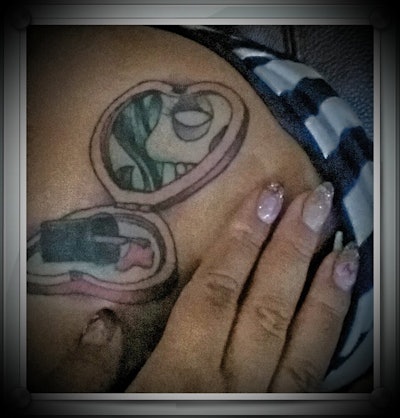 Daisy Gomez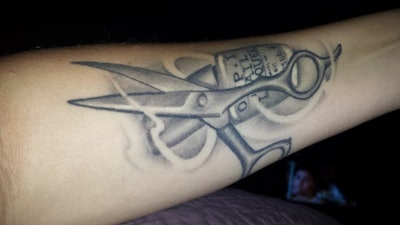 Holly Marie Abramski, nail tech at Absolutely Nails by Holly.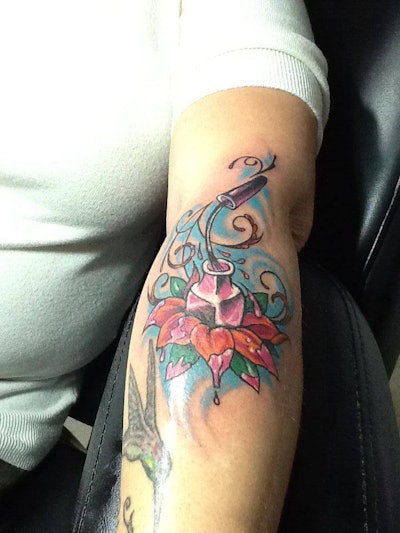 Mildred Rivera, nail technician at Jasmine Nails, Tanning and Spa had hers done by tattoo artist John Jachimiak.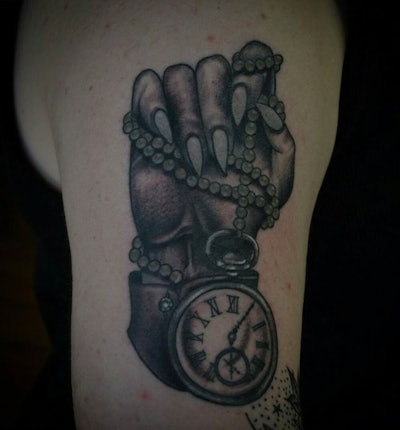 Buffy King of CITYMANI: "I love my new 'antique' stiletto nail tattoo!"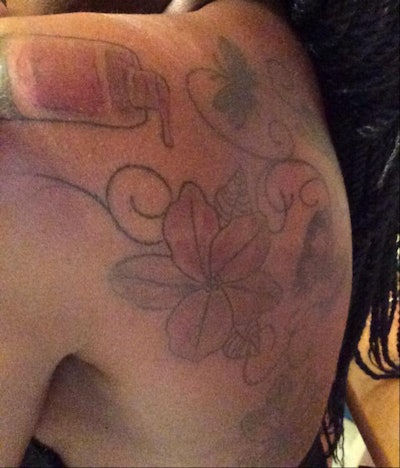 Kim N. Jackson-Taylor, Educator at Hand & Nail Harmony.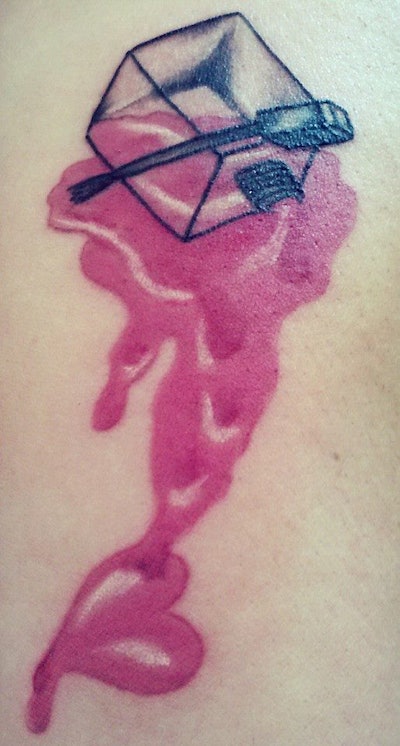 Michelle Kingan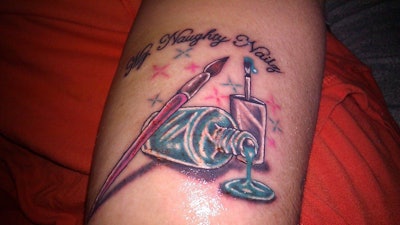 Alexis "NaughtyNail'z" Mcbride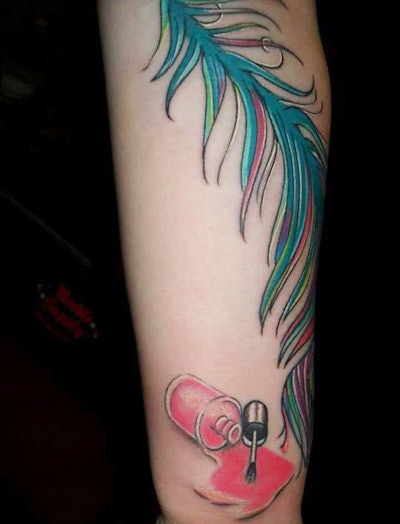 Danielle Salazar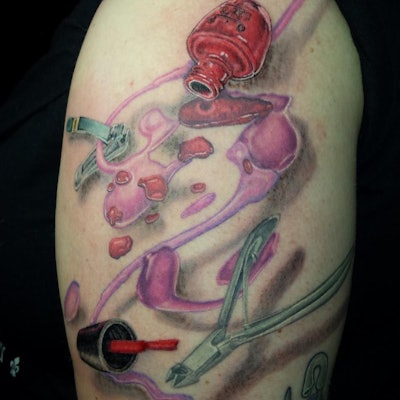 Eryn Jean Orcutt-Brothers, nail tech at The Hair Boutique-OK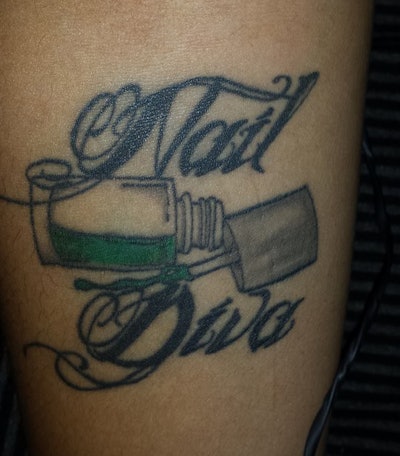 Edmesta Lockhart, nail tech at ELock Nailz: "Love my tattoo!!!"

Jenean French, owner/freelance makeup artist at Makeup Artist?.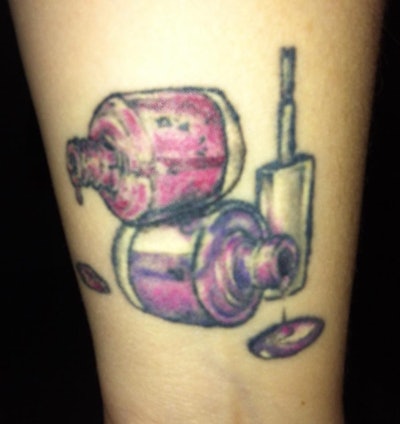 Ariayl Schoonmaker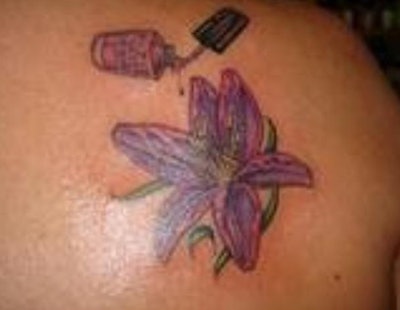 Emily Winebrenner Stover: "I wish I would have made mine bigger!!! This was my first tattoo!"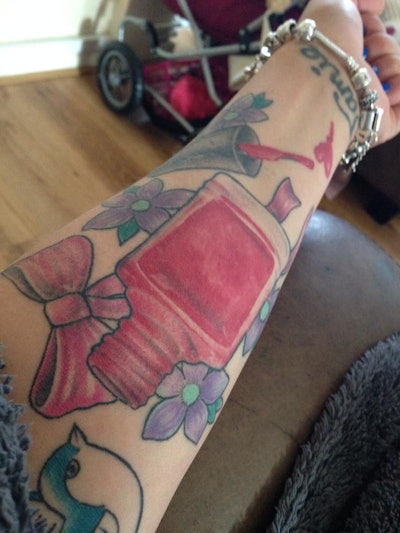 Emma Young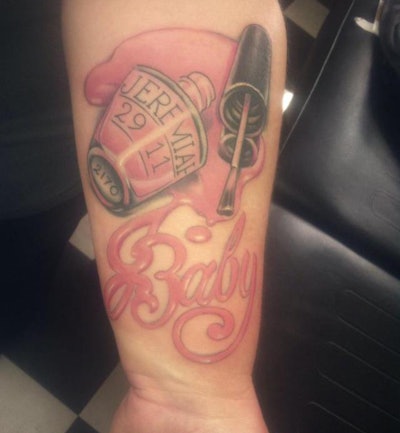 JBaby Tonite, Mr. John's School of Cosmetology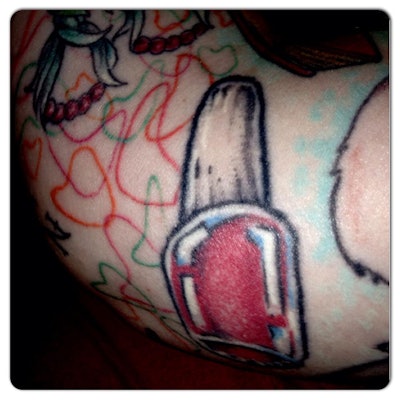 Brooke Donnelly-Grzelak, hair stylist at Merle Norman Studio – Luxe Spa – Fort Wayne.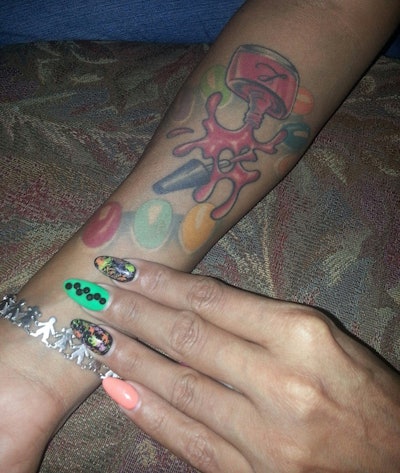 Leslie Rosario: "I love my job; it's part of me!!!"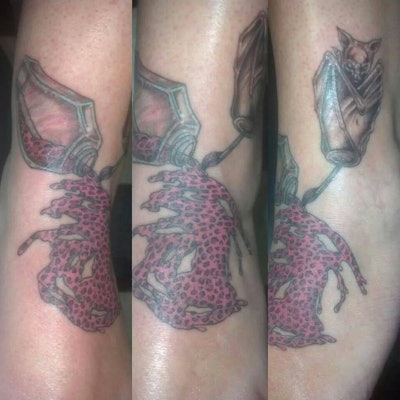 Kendra Budjenska: "Best tattoo I ever got. My own bottle design."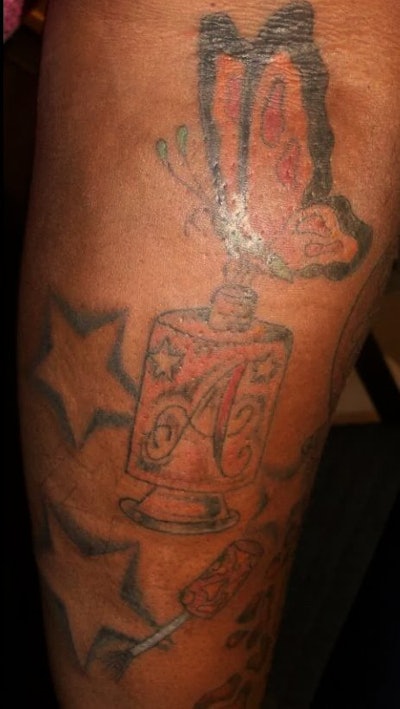 Alana MzNailzcakezhair Luten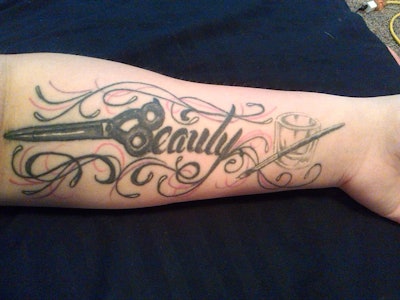 Cassandra Funes, Joseph Charles Institute of Cosmetology?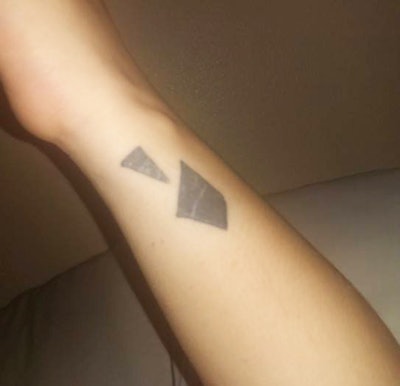 Dominique Stewart: "My nail polish bottle needs to be touched up."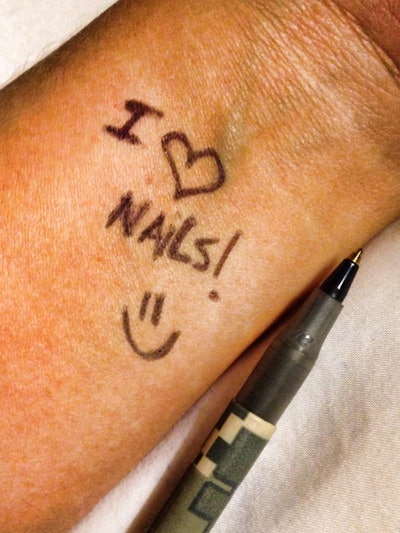 Cecilia Bk: "And this would be mine…LOL sorry but ain't doing the needle! Hahaha"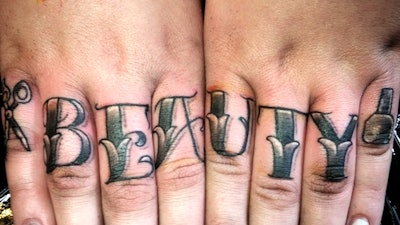 Teagan Barnes, Roseburg Beauty College, Roseburg, Oregon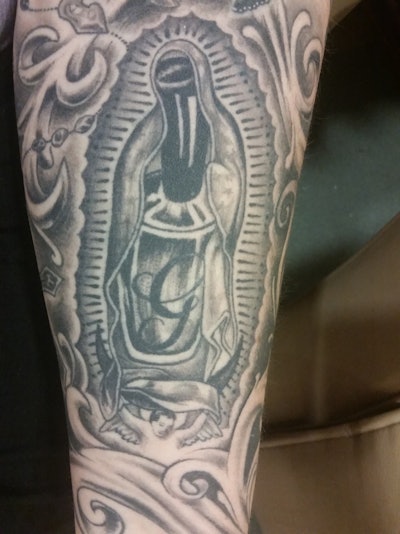 Sharleen Gorman of Glossy Nails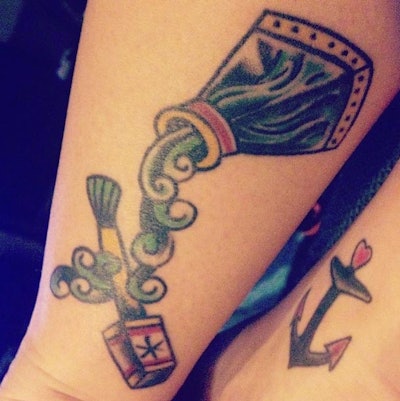 Nicole Franklin of @nailpolishwars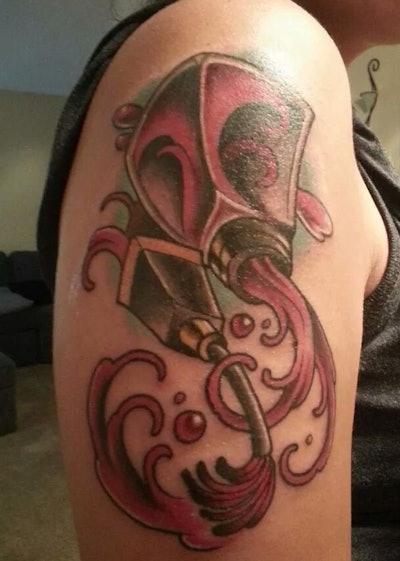 Jennie Pfeffer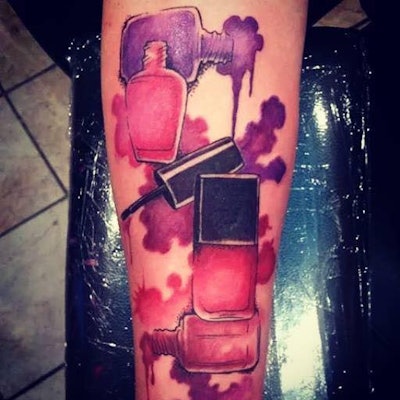 Jill Marie-Willmore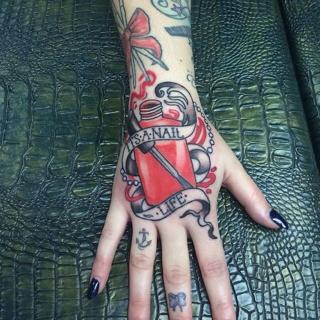 Joan Yeager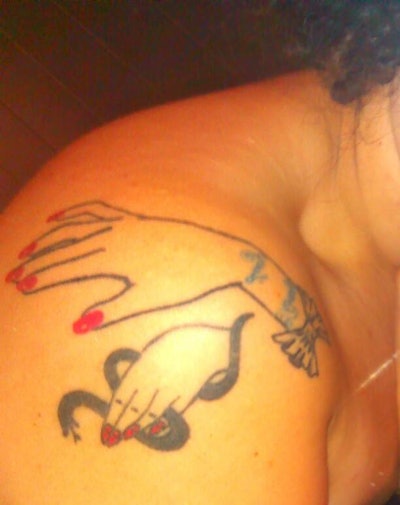 Gigi Lira: "Started a collection of fancy polished hands on my shoulder, aiming for more."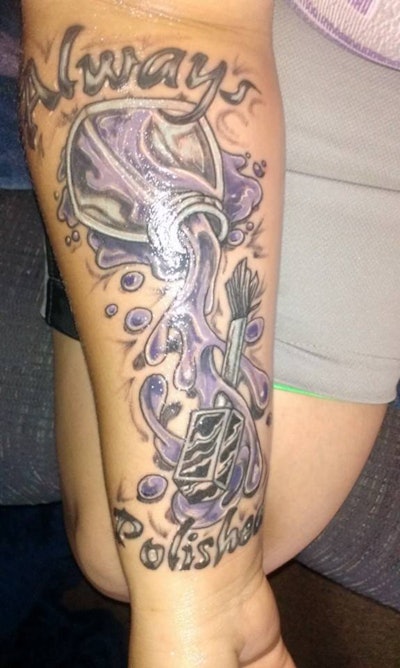 Jessica Jacobs-Payton: "It says 'Always Polished.'"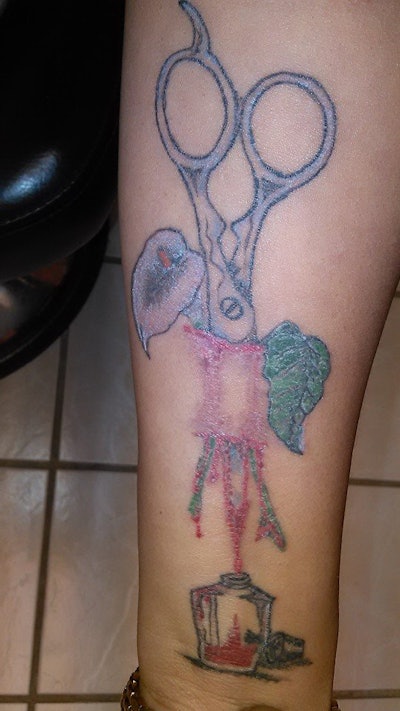 Paulis Perez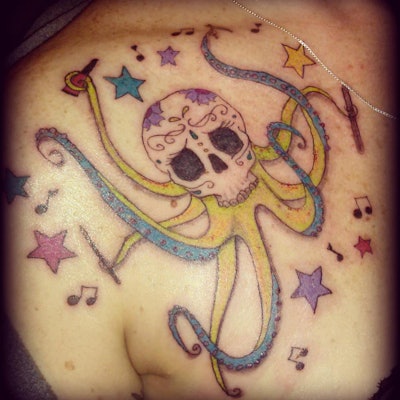 Jessi Haffey-Hesterly: "Just got it Saturday!"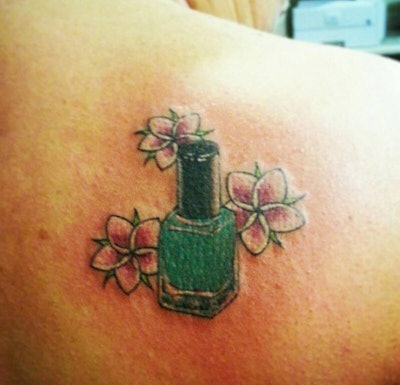 Stacy Buzbee-Lorenzen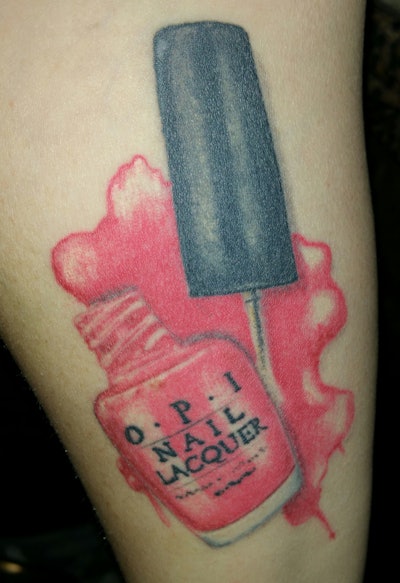 Peggy Furgason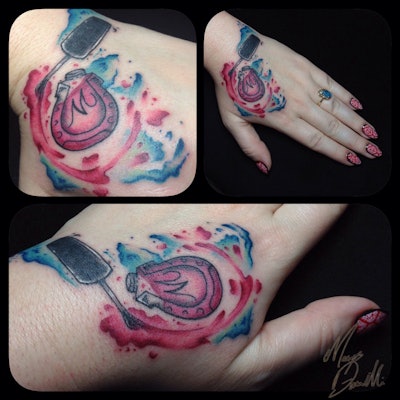 Margaret Dinwiddie
Instagram: @maagsdinwiddie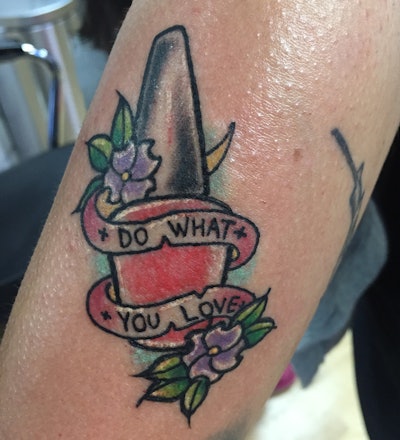 Natalie Collazo @natalie_2705
Tattoo done by Bill Lorde
Have a nail or beauty themed tattoo to share? Email your submissions to us at semick [at] creativeage.com!