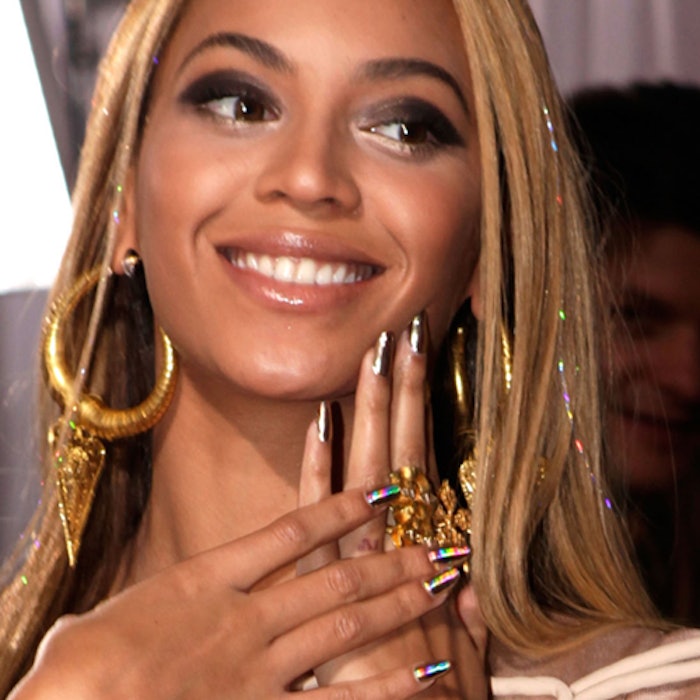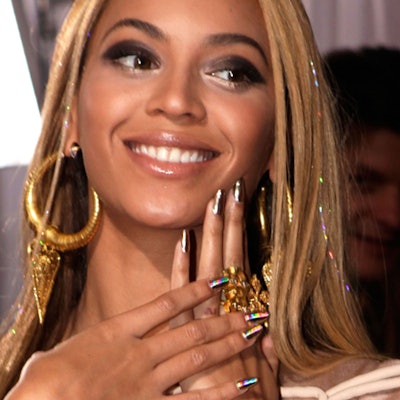 The Queen B has been a role model in music, motherhood, fashion, and of course, nails! In gearing up for a big performance, special appearance, or just for everyday, Beyoncé's nails are always dressed to the nines. Most of her manicures are actually done by the talented celeb manicurist Lisa Logan, who has painted the icon's fingernails a variety of colors, as well as skillfully applied a wide range of Minx coatings to them. See which styles over the years have captivated our attention.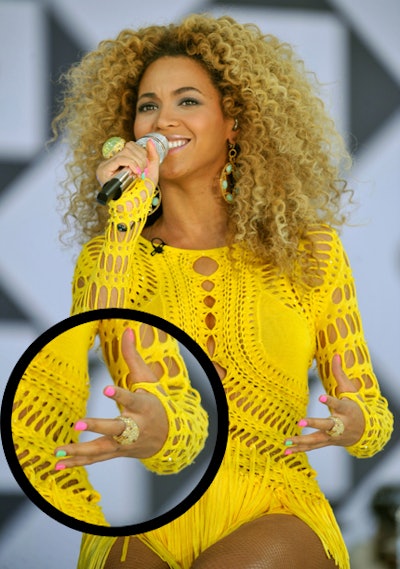 At her Good Morning America performance in July 2011, Beyoncé performed "Single Ladies" in a bright ensemble that matched her pastel pink and glowing green tips. Her unusually colored accent nail looked like it was made to match her jade earrings.
[Image: WireImage]
Beyoncé's nails sparkled at the 2010 Grammys! Not only did the pop star win six awards that night, but the media was wild for her Minx nails in the limited edition color Golden Hologram applied by none other than Lisa Logan.
[Image: WireImage]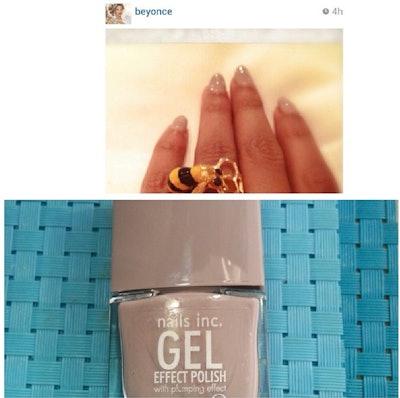 Recently, Lisa Logan tried the high shine Nails Inc. Gel Effect Polish Porchester Square on Beyoncé's digits. The star even posted a photo on Instagram of her summer-like manicure, complete with a bee and honeycomb ring. A less commonly used brand, it was a huge reveal on Lisa Logan's profile when she shared the hue she had used on the talent's hands.
[Image: Lisa Logan via Instagram @lisa_logan; Beyoncé IG@beyonce]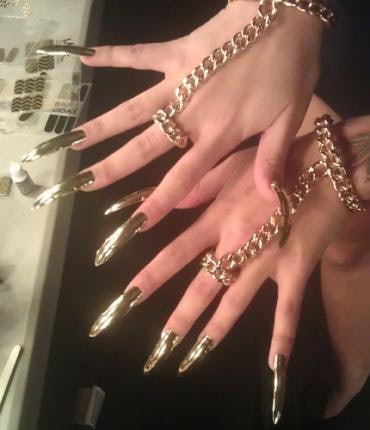 For halftime at Superbowl 2013, better known as Beyoncé's concert that was preceded by a football game, the singer's tips were covered in metallic gold Minx coatings applied by Lisa Logan. If you thought Beyoncé's own nails were noticeable, even more extreme were the manicures of her ten backup dancers. Each wore the same gold nails, but on long fingernails that each required two Minx.
[Image: Lisa Logan]
The inaugural color was ncLA I'm With the Band for President Barack Obama's second term. Beyoncé's nails were front and center as she held the microphone during the National Anthem.
[Image: Getty Images News]
Last but certainly not least, Beyoncé rocked Minx yet again in Lady Gaga's "Telephone" music video. Rather than the usual metallics or solid colors, both singers actually wore Minx in an American flag print in the height of the song. Note the ever-changing manicures for yourself in Lady Gaga's strange, but original video here: youtube.com/watch?v=EVBsypHzF3U
[Image: Minx Inc.]