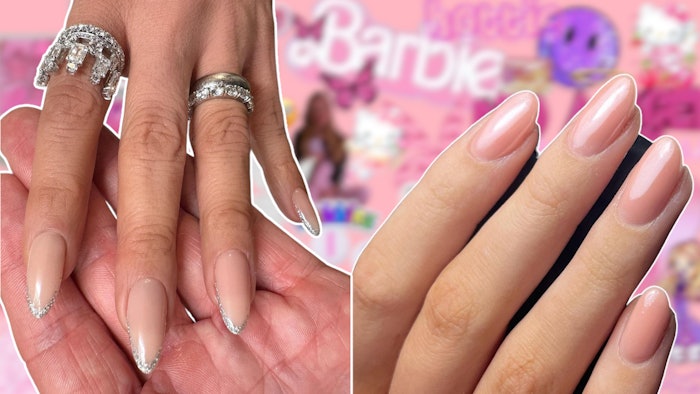 Courtesy of Lauren Nicole and Tom Bachik
Y2K meets modern minimalism in this latest nail trend – lip gloss nails.
Inspired by juicy tube lip gloss from the early 2000s, the lip gloss nail trend mimics the plush and glossy finish of lip gloss applied to lips.
There is a heavy emphasis on natural nails for this trend, which means you want the nails to be prepped and immaculately filed. When it comes time for color, neutral pink polishes are preferred, but a sheer coat of any color can work. Then, finish with an ultra glossy gel top coat. That's it!
This trend became popular not only for its clean girl aesthetic but also because it's so easy to achieve. If your clients are looking for a simple style to work into their nail rotation, this may be the one to recommend. Read on to see how you can create this look for your clients, along with some fun variation.
The Traditional Look
U.K.-based nail artist Lauren (@laurennicolenails_) created a simple and elegant lip gloss nail look using Ice Queen Chrome from Nail Stamping Queen UK.
"It's the perfect color to create the look. It's so elegant and simple for this time of year," the nail artist told Nailpro.
"The lipgloss trend is so clean and natural," Lauren adds, reflecting on the trend. "I think it will suit everyone, and it will be a classic 'go to' look this year."
How-To: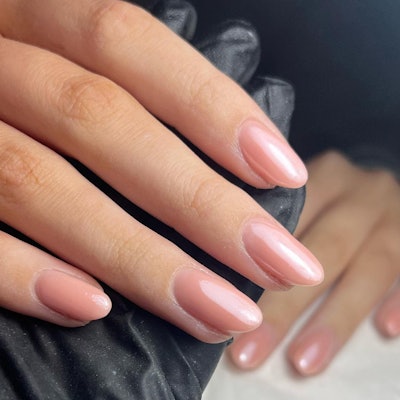 Apply The GelBottle BIAB 19 Cover Nude Builder. "This is a great shade to use under a white chrome powder because it is so natural."
Top with The GelBottle Extreme Shine Top Coat "This is a non-wipe top coat, which makes the chrome powder go on nice and smoothly."
Apply Ice Queen Chrome from Nail Stamping Queen UK. "This is a lovely white pearlescent shimmer," Lauren says. "I applied this using the Nails Luxe Brush O, which is the perfect tool for any chrome or pigment."
Lip Gloss Nails that Sparkle
Celebrity manicurist Tom Bachik (@tombachik) created a lip gloss nail look for Jennifer Lopez, featuring a precise glitter line at the free edge of the nails for a sparkly finishing touch.
Lopez wore the nail look to the premiere of her movie "Shotgun Wedding."
How-To: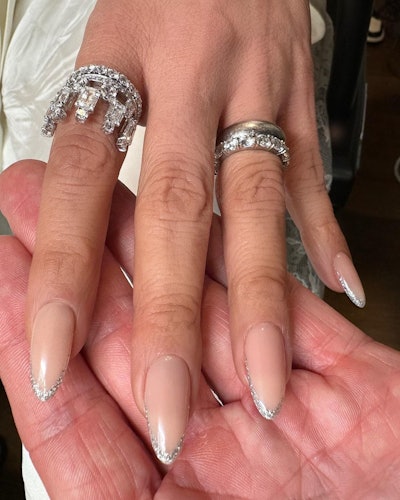 Prep the nails with the Tom Bachik Ultimate Nail Care Set by Tweezerman.
Apply Aprés Nail GelX Maisie tips in a natural medium stiletto, and soften the shape.
Apply a semi-sheer, high-gloss nude color. Bachik custom-mixed a color for Lopez to play off of her skin tone.
Finish the look with a sparkly reflective gel glitter lining.
With a nail trend this easy to complete, why wouldn't you hop on it?