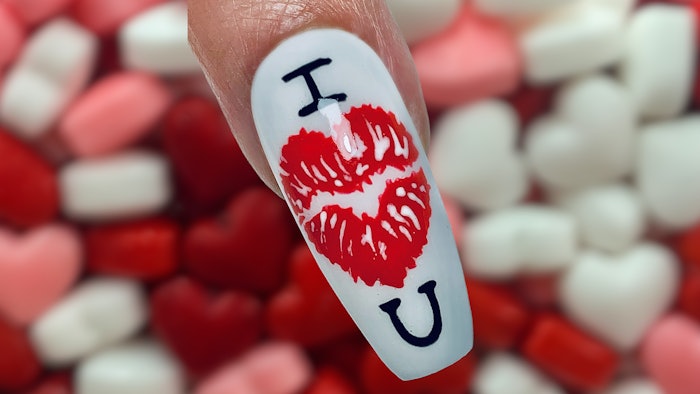 Get ready for Valentine's Day with this nail art tutorial. 
U.K-based nail artist Kelly Scothorn (@asprettyas_nailsbykelly) created Valentine's Day-themed nail art, featuring a gorgeous set of red lips at the center of the design. Scothorn used products from Magpie Beauty to create the design.
Scothorn shared her step-by-step process for creating the nail look with Nailpro, and we're sharing it with you! Learn how to create this look for your clients with this tutorial below. 
How-To: 
Apply 2 coats of white gel polish to the nail. Cure each layer. 
Using red gel paint and a detailer brush, create a shape for the top lip similar to the shape of the top of a heart. Do not cure at this stage. 
Using a striper or detailer brush, draw the bottom half of the lip in the shape of a curved letter 'V'. This will create the bottom lip line and the illusion of a heart. Do not cure. 
Continue adding your red gel paint to create a full bottom lip. Do not cure yet.
Using the very tip of your detailer brush, begin to gently pull out the uncured red gel paint to create texture around the edges of the lips. Once happy, give the nail a full cure. 
Begin to draw small crease lines on the lips by using white gel paint. Add these to both the top and bottom lip. Cure. 
Using a detailer brush and black gel paint, draw lines to create a capital letter 'I'. Cure for 60 seconds. 
Create a capital letter 'U' with the black gel paint and cure. Add your favourite top coat to finish, and fully cure the nail for 60 seconds. 
Follow Nailpro on Instagram and subscribe to our free daily newsletter to receive the latest news for nail professionals.