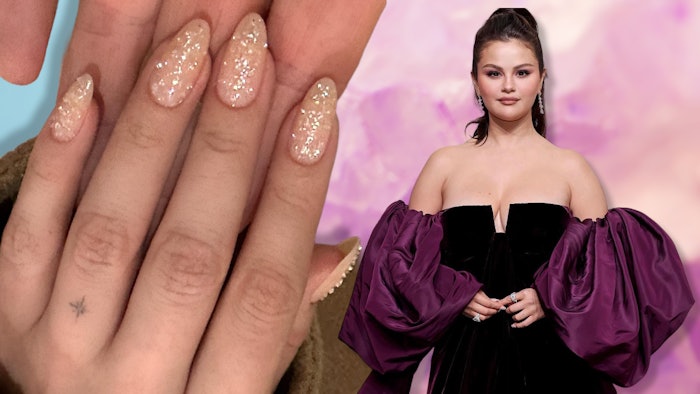 Selena Gomez's Swarovski nails shone on the 2023 Golden Globes red carpet last night in Los Angeles.
Her go-to manicurist, nail artist Tom Bachik, styled her dreamy nails using products from Aprés Nail. 
"We wanted to use a softer shade with a bit of sparkle to contrast the deep dark drama of [Gomez's] Maison Valentino gown," Bachik said in an Instagram post. 
Find out how Bachik created Gomez's naked disco ball manicure below.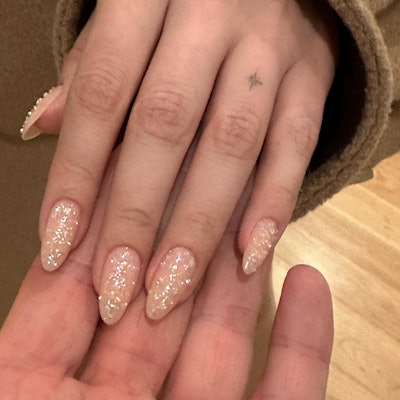 How-To:
Bachik shared on Instagram how he created the nail look for the "Only Murders in the Building" star, a first-time Golden Globes nominee last night. 
1. Slightly soften the shape of Aprés Gel-X™ Natural Stiletto tips.
2. Apply two thin coats of Aprés Gel Color in Forgotten Film. 
3. Add a coat of Non-Wipe Glossy Top Gelcoat.
4. Statically place fine glitter and Swarovski pixie dust for sparkle and dimension. 
Bachik created a chic nude manicure for Gomez in October 2022, as well as the white-hot man she wore on the December 2022 cover of Rolling Stone.
Follow Nailpro on Instagram and subscribe to our free daily newsletter to receive the latest news for nail professionals.