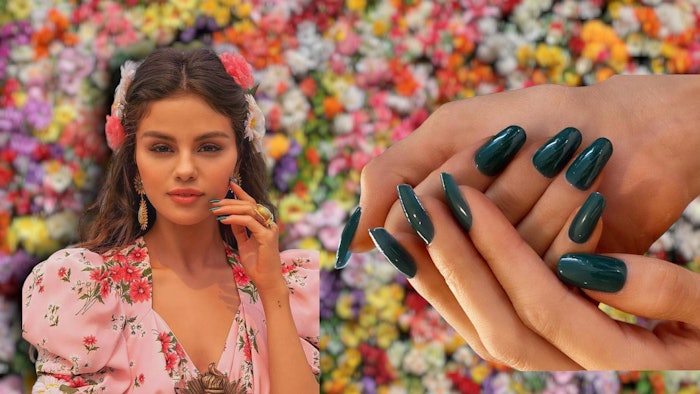 Selena Gomez is now the most followed woman on Instagram (398 million followers) after overtaking Kylie Jenner at the end of February.
Her nail artist and the press are claiming her recent Golden Globe nail look to be spring's biggest manicure trend, and they're calling it "Naked Disco."
Nails.co.uk has analyzed 198 nail designs worn by Selena Gomez, posted by her nail artist Tom Bachik (@tombachik), to uncover her most popular nail looks to date, based on the number of likes. According to the results, it's not her "Naked Disco" look that is grabbing everyone's attention right now!
Here's a roundup of her top five most popular nail looks: 
1. Iconic Bright Red 
Selena's most liked look on Tom Bachik's Instagram is her iconic bright red with over 63.5k likes. The post that received this attention was published only a couple of weeks ago on March 1, 2023. This attention for Selena comes as no surprise as nails.co.uk found that in the two weeks between February 11 (prior to Selena taking the top spot on Instagram for most followed female) to March 4, searches for the 'Selena Gomez' rose 285% on Google worldwide.
The look was originally posted in November 2020, but the professional nail artist is prone to a throwback picture of his client's nails.
Liana Thomson, nail expert at nails.co.uk says, "The nail trend to watch out for this spring is a simplistic bright red look. Red nails have long been a manicure classic, so we would not be surprised to see this timeless shade pop up on a lot of hands in the coming months."
2. Glossy Emerald Green 
Selena's second most popular nail look was the one she wore in the music video for her single "De Una Vez," which was released in January 2021. The music video was nominated for Best Music Video Short Version at the 2021 Latin Grammy Awards.
 "We would love to see Selena Gomez's oval-shaped, emerald green look she wore for her 'De Una Vez' music video crop us as a nail trend this spring," Thomson says. "In the music video, Selena's green nails were paired with a pretty pink floral dress that complimented one another perfectly."
According to Google Trends, spring is the most popular time for shoppers searching for a 'floral dress,' with the search term spiking mid-April in 2022.
3. Gothic French Tip with a Twist 
Receiving 36.6k likes making it Gomez's third-most-popular nail look was her "French Twist with a Flipside." Gomez wore this look in Spring 2021. 
 "A French manicure is an ageless style of nail art, but there's a gothic twist to try," Thomson explains. "Why not [recommend] almond-shaped nails, with a black base coat, white tip, and red underside to copy the current queen of Instagram, Selena Gomez?" 
4. Chic Black Mani 
Selena hosted "Saturday Night Live" for the first time on May 14th 2022. Bachik, Gomez's nail artist, states the look to be a "chic black mani" that was 'giving glam."
"Replicate Selena's nail look this year because hot pink is in this spring," Thomson says. "Barbiecore has taken over the fashion world, and it doesn't appear to be going anywhere anytime soon with the release of 'BARBIE; THE MOVIE' this July."
5. Classic French Tip 
Selena Gomez once stated, "the sexiest thing is class." When it comes to nails, one of the classiest looks is the standard French tip.
"The French tip is a nail design recognized globally across all generations," Thomson explains. "No matter what the shape of the nail we believe it oozes sophistication. But, if you're someone who follows trends be aware that shorter nails are in, so a square or oval shape could be your best option for right now."