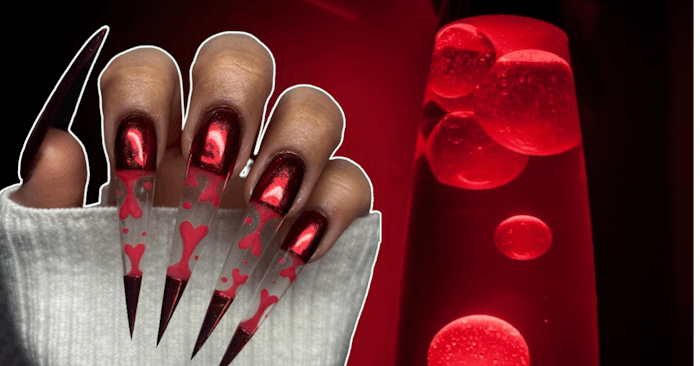 Groovy, baby!
Lava lamp nails are one of the newest ways to honor the groovy desk accessory filled with suspended, brightly colored liquid. With a plethora of colors and shapes to choose from, lava lamp nails are the ideal design for fun, creative clients who are looking for nails that make a splash.
How-To: Lava Lamp Nails
Texas-based nail artist Maria Bello (@maria.bello.13) shared this lava lamp nail design with Nailpro and credited the work of @clairewoodnailartist for inspiring her design. Bello largely used products from Secret Nail Affair to create her lava lamp nails, including Stiletto XL Tips and color acrylic powders in Fuerza and Gizzale.
"I started by creating the frame of the lava lamp with black acrylic," Bello explained. "I sculpted the hearts with red acrylic. I wanted the hearts to glow, so I mixed a pink glow pigment (Gizzale) into the red acrylic (Fuerza)."
"I finished by encapsulating everything with clear acrylic and a shiny topcoat, and boom – heart-shaped lava lamp nails!," said Bello. "Creating these was a little challenging, but I loved the way they turned out!"
Bello also used products from Nailz by Dev and Daily Charme to create the look. 
This variation of lava lamp nails is already going viral in 2023, but the groovy trend has retro roots. Nailpro featured moving lava lamp nails way back in 2015.
About the Artist: Maria Bello is a Houston, Texas-based nail artist who has done nails for six years. Her love for artistry started with makeup, then she discovered the nail world and fell in love. 
Follow Nailpro on Instagram and subscribe to our free daily newsletter to receive the latest news for nail professionals.