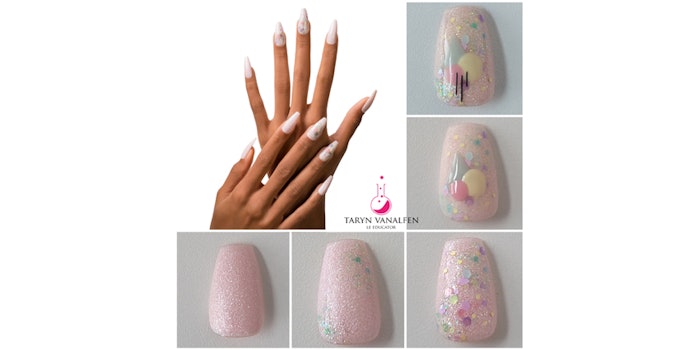 Courtesy of @taryns.nails
Taryn VanAlfen, nail tech and Light Elegance educator, has created an abstract glitter design perfect for the springtime!
Light Elegance launched its spring collection: The Artist, and VanAlfen used this collection to create the design.
Create the Look
Start by covering the nail with a light pink glitter.
Take a soft emerald green-blue glitter and a mix of pastel glitters (pinks, purples, yellows), and make a kind-of a messy diagonal stripe through the middle of the nail.
After curing, buff the nail with a file so it is as smooth as you can get without filing the glitter off.
Now that the nail is smooth, you can easily paint some crisp shapes in the middle. Apply dusty rose, olive and vanilla/yellow colors.
Apply top coat, and then using a thin brush, paint on three thin, tiny black stripes for an extra pop!