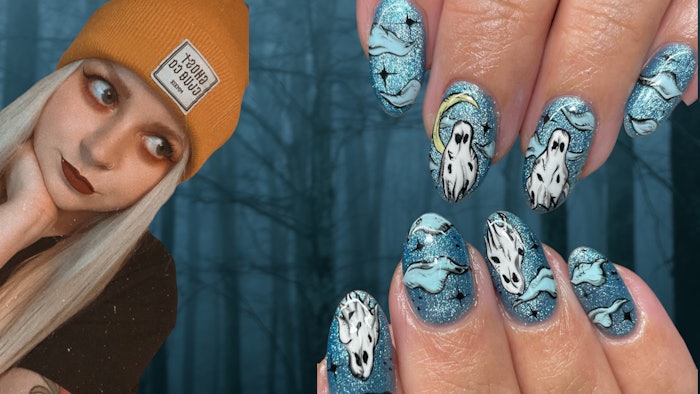 Courtesy of Aimee White
Nail artist Aimee White (@spellboundxnails) shares five things that inspires her nail art.
My name is Aimee White, and I'm a nail artist in the U.K. I work alongside my cat in my little witchy den surrounded by crystals and Ouija boards. I've been in the industry for three years, starting clients just after the pandemic. I specialize in hand-painted nail art with a love for anything spooky, horror, magical or character based.
1. Illustrations
I love finding artists on Instagram who draw creepy creatures and witchy illustrations that I can turn into nail art.
2. Autumn/Halloween
I love it when it's getting dark early, you can start lighting candles and get cozy with a blanket. The fall colors and the Halloween vibes start creeping in. I feel like that's when I'm at my best, and people let me do my thing!
3. 1990s/Early 2000s 
Whether it's cartoons from my childhood or horror movies from my teen years, I love creating art that makes people feel nostalgic.
4. Nail Tech Friends
Work alongside with some of my favorite people, such as my bestie @trickortreatnails, inspires me. Her art always inspires me. I'm lucky enough to work with @nailzbydev, whose products inspire me daily.
5. Pinterest and Drawing
I can spend hours scrolling and looking for art and patterns to spark inspiration for me to draw out designs that I can then gently persuade/bully my clients to have.