This Atlanta-based nail salon focuses on health-centered services for at-risk clients by offering waterless manicures and pedicures.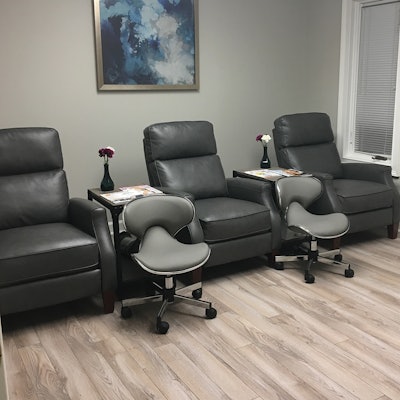 DISTINCTION
The main characteristic of Waterless Medi-Pedi & Nail Spa is right in our name—we want our clients to know when they make an appointment that we are a waterless salon. This means that we do not include soaking in any of our treatments or services. We do this to prevent any kind of contamination, eliminate the risk of waterborne pathogens, and maintain our standards of care for high-risk and regular clients alike. Since we are the first Nailcare Academy Certified Safe Salon in the Atlanta area, we only employ technicians who have obtained advanced certifications; their continuing education ensures the wellness and safety of our clients, especially those who require special attention.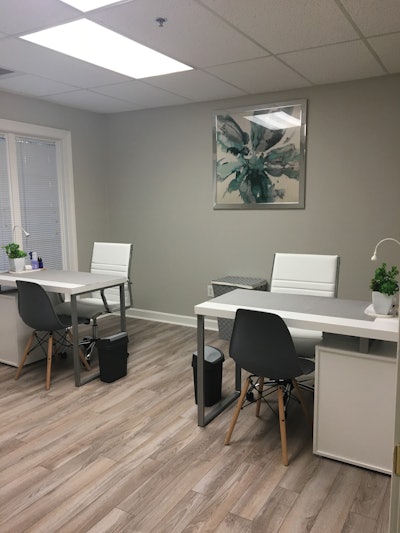 THE LOOK
For the decor, we aimed to create a modern, cozy spa environment. Clients can recline in our pedicure chairs during a service, and polishes are served on trays instead of shelved on the wall to keep the space clean and chic. Our color scheme features shades of blue, gray and white to make clients feel welcome and relaxed. Creating a "no rush" atmosphere is something that is very important to us.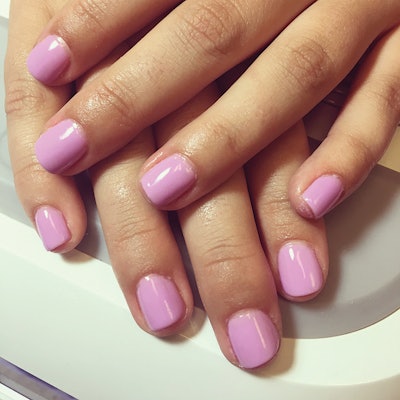 CLIENTELE
Our clients range from recent college graduates to older individuals suffering from a chronic illness, such as diabetes or an autoimmune disease. We also cater to young adults, mothers and career-focused women.
IN-DEMAND SERVICE
We offer a range of services, including manicures, pedicures and toenail restoration, but our most popular service is a spa gel manicure and pedicure combo, which costs $95 and lasts about an hour. Many clients are curious to see what "waterless" is all about. After receiving a service, they are surprised by how nourished their skin is. They also appreciate the long-lasting polishes, vegan products and our cleanliness.
THE GOODS
I chose to use vegan products because we are all about wellness, health and conscious living. We're an eco-friendly salon, and we do treat a lot of high-risk clients who require special treatments, such as diabetic toenail restoration. By using products that do not contain high levels of chemicals, we can treat a wider range of clients. Our vegan products include Zoya, BeBio, BioSeaweed Gel, Voesh and LCN.
SOCIAL MEDIA
We use Facebook and Instagram equally to promote ourselves. Facebook usually garners more of a response, since people are able to have a conversation about what a waterless spa entails. We're still relatively new, and the waterless concept is unfamiliar to a lot of people, so being creative on Facebook has helped us build our clientele.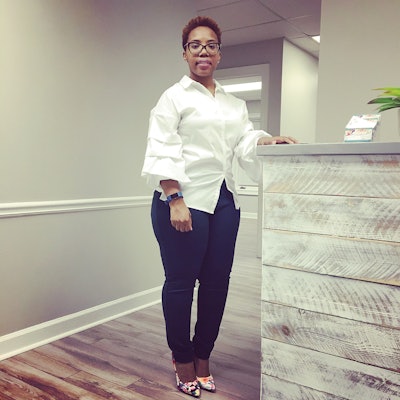 PRAISE
A client said, "You have given me hope in finding a trusted salon where I feel safe, cared for and relaxed, not to mention feeling beautiful. I never would have thought a waterless salon was for me." I was touched by this compliment because we work so hard to provide great services for our community, and to hear a client appreciate that work is very heartwarming.
ADVICE
Know what your salon values, and stick by those values. Know exactly who you want to sit in your chair, learn how to speak to her and show her why she matters so that she comes back. Be patient, open to change and always willing to learn new things, as well as refresh skills you've already acquired. It's not always easy, but enjoy the process and deliver results that will be remembered.
What do you think of Waterless Medi-Pedi & Nail Spa? Let us know in the comments below!
[Images courtesy of Waterless Medi-Pedi & Nail Spa]
This article was fist published in the February 2018 of NAILPRO