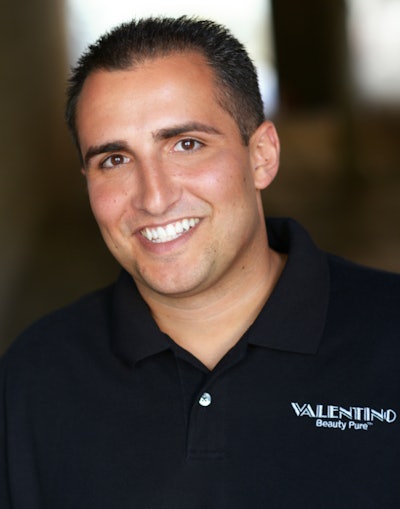 David Anthony DiLorenzo is an entrepreneur and an international businessman. Currently, president of Valentino Beauty Pure and Vetro USA, he began his first business at age of six when he bought and resold pencils to his classmates. His passion is contagious, infectious and empowering to anyone around him. That's why we are proud to introduce you to our new guest business blogger!
David is deeply rooted in the beauty industry. He grew up in salons and barbershops. Coming from a long line of beauty professionals with an entrepreneur spirit, David's earliest memories are in his grandfather's barbershop where he learned about true customer service. He watched his grandfather not only service his clients' hair needs but also their essential human needs. Before the age of 10, instilled in him were the qualities of what it truly takes to run a successful business.
David soaked up his grandfather's approach to business and customer service like a sponge and uses those same principles to this day. He spent his teenage years and early 20s working in his father top-grossing, award-winning, full service salons in Miami Beach, Florida. He did everything from sweeping, shampooing and serving clients beverages. Little did he know then, his dad was instilling an ironclad work ethic in him, including the importance of customer service and showing him the business side of running a profitable salon. David went on to manage his family's second full-service salon located in Boca Rotan, Florida.
RELATED: Valentino Beauty Pure and Vetro USA Join Forces 
He left the nest to try his luck at his own business and operated two of the Jersey Shore's most sought after pizzerias. With an eye for detail, practical business approach and interactive marketing, he single-handedly tripled the restaurant's revenue in one year. People of all walks of life reported they traveled hours just to come to his restaurants because of the customer service and quality. They coined him, "The Mayor," of the Jersey Shore because he knew everyone and has a gift for connecting people and always tries to create a profitable and fun sense of community in whatever he does.
David then went on to become one of the masterminds behind Spring Break USA. He was the director of logistical marketing for an event planning company where he worked directly with large corporations such as Coca Cola, Red Bull, Trojan and Twix, developing the brand's interactive marketing campaigns for Spring Break. MTV's "Spring Break" nicknamed his events, "The Best Party in the World." If his company was throwing the party, it was not to be missed.
RELATED: Beauty File Interview with David DiLorenzo
Keeping in the tradition of family owned and operated business David joined forces with his father in 2010 to create Valentino Beauty Pure. A fashionable tabletop and an odor and nail dust collector, that nail technicians worldwide are using. The Valentino has been featured in every major beauty magazine and has won NAILPRO's Readers' Choice Awards for three consecutive years. With his extensive background in marketing and having owned and operated several profitable businesses, David is an expert in helping people make more money and better business decisions.
Do you have business questions for David? Let us know in the comments below! 
[Image: Courtesy of David Anthony DiLorenzo]
READ MORE: