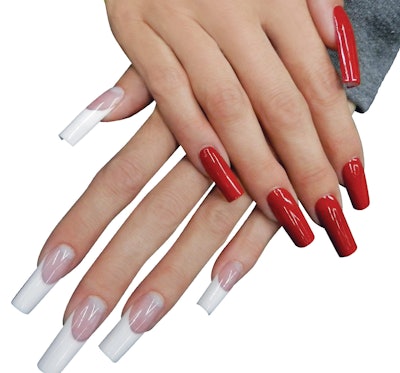 At a NAILPRO competition, if you look at the techs who consistently make it into the winners' circle, it may be difficult to imagine a time when they weren't taking top honors. But, of course, everybody has to start somewhere—and whether they managed to score a surprise win or went home empty-handed, there's no denying that the stories of their first forays on the nail competition circuit are inspiring—in fact, reading about their initial efforts might just prompt you to take the plunge yourself! Here, champion competitors prove that you never forget your first time.
"My first nail competition was at the Midwest Beauty Show in Chicago in 1991. It was a two-hour Hand-Painted Nail Art competition. Back then, we had to create the designs in the allotted time, whereas now we can finish our designs at home without the same pressure. I hadn't practiced my full design before the competition, and after I did the first nail, I knew I would only have time to finish five more. So, I created a plan B on the spot: Do every other nail with the elaborate designs (Kabuki dancers), and then quickly do the four nails in between with Japanese writing. I finished top-coating the last nail as they called time. I barely finished but I was so surprised at how much I liked them that I didn't care where I placed! I did, however, come in third."
—Amy Becker, two-time NAILPRO Cup champion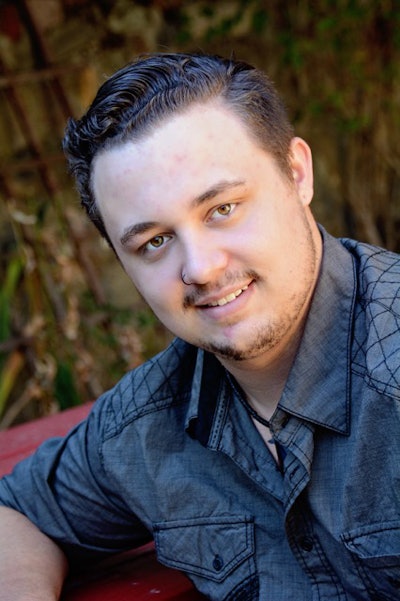 "For my first competition, I entered Soak-Off Gel, the first event to kick off the NAILPRO Competitions at IBS Las Vegas in June of 2015. My mom, Allie Baker, asked me to be part of her relay team with Nikki Payton and herself, and I thought if I'm there, I might as well give it a shot on my own also. I'd been at a few competitions as a Fantasy Nail Art model, and I had been helping my mom and Nikki with prepping models in between competitions, too. It was non-divisional and I was still a student, but out of more than 20 competitors, I made it into the top 10—not bad for my first competition. It was definitely a learning experience, and a it was a pretty cool feeling knowing that I could hold my own competing against nail techs with a lot more experience. It inspired me to keep competing and to become part of the EzFlow team. "
—Jarrett Baker, two-time winner of the NAILPRO Team Cup 
"At the very first beauty show I ever attended in the U.S. in 2009, I discovered the nail competitions during my stroll through the convention center, and it made my heart race. I thought to myself, 'I can do it next year!' To that end, I spent the whole year preparing for the Mixed Media competition at Premiere Orlando in 2010. When I got to the show, I had a lot of challenges, including discovering that I was missing the base for my table lamp. So, I had to wander around the convention center until a kind lady at a booth sold me her personal table lamp. To my big surprise, even after all the challenges I went through, I came in first. After that, I was hooked and I knew I would not stop until I won the NAILPRO Cup."
—Marina LoPresto, 2014 NAILPRO Cup champion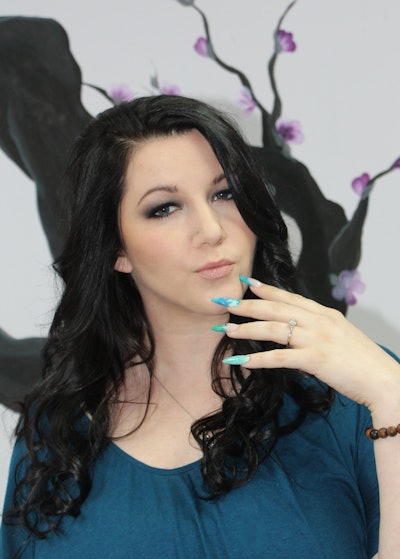 "My first competitions were Salon Success and 3-D Nail Art on John Hauk's Cruise With the Nail Stars. The only rules for 3-D were that the nails couldn't be over a certain length and height, and had to be on a flat surface. Seems simple enough, but to someone who had never competed, it was stressful. I worked on those nails day and night, in between clients, probably in my sleep. I taught myself how to do 3-D, and I didn't know that you could use wire, clay and other things to make it elevated—so I literally elevated it stroke by stroke. When I turned in my work and saw so many other beautiful pieces, I felt certain I wouldn't place. Also, the novice and veteran competitors wound up being combined, which made it that much harder. But I placed second in 3-D, losing by only one point, and second in Salon Success, too."
—Alicia Mounixay, veteran competitor
"In 1994, I set out for my first competition: Acrylic Sculpture at the Midwest Beauty Show in Chicago. I didn't know what to expect or what I needed to do—all I had to go on was a picture that I saw in a magazine of a wedding set of nails. I didn't even know what the rules and regulations were until I got there, since we didn't have websites, YouTube and Facebook. I was confident in the nails I came prepared to do, but it turned out they weren't the nails the judges would be looking for; I came in seventh out of about 65 contestants. I had no expectation of winning, though—it was only important for me to try competing, and after seeing all the competition nails and the competition arena, I was hooked. When I got home, I came up with a strategy so I could keep competing, and that's what I did—city after city. I have competed for 22 out of my 24 years in the industry."
—John Hauk, two-time winner of the NAILPRO Team Cup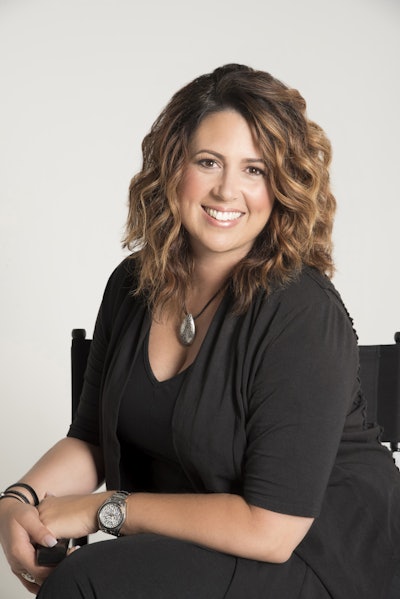 "I entered my first competition in 1997 at a small trade show in Reno, Nevada. I was still a student, but I thought it might be a good way to receive some honest feedback. I entered the professional division because it was Sculptured Pink-and-Whites, which was what I wanted feedback on. There were only seven people competing, and I came in seventh. I knew going in that I was most likely getting in over my head, but it was a great experience and made me want to compete more. Almost all the other competitors were so supportive and helpful, and gave me great advice. It wasn't until later that I realized I had competed against nail icon Tom Holcomb. (Holy cow, was I in over my head!) This show was also where I was first introduced to EzFlow. I can't believe how the whole experience ultimately changed my life and career. I had no idea 'just doing nails' could lead to the amazing opportunities I've had."
—Allie Baker, 2015 NAILPRO Cup champion and global brand ambassador for EzFlow
What was your first experience like as a nail competitor? Tell us in the comments, below. 
[IMAGE: Courtesy of the individuals]
This article was first published in the May 2017 issue of NAILPRO.