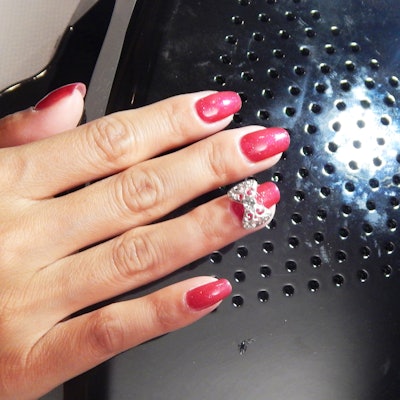 Expert nail tech and artist Vu Nguyen answers your biggest nail questions!
Q: "What is the best way to place stones and other 3-D charms on nails, both natural and acrylic? I use nail glue then top with clear coat, but that doesn't last very long. Also, the clear coat dulls the shine of the stones." —Donna Chanthavong
A: Before applying your stones or embellishments, be sure the surface is free of shine and oils. That slick surface will cause the stones to slide when applying top coat or gel. Overall, embellishments will stick to enhancements longer than they will to natural nails because natural nails have natural oils (like skin) that can come between the adhesive and the nail. Deciding on the right adhesive to use depends on which product is already on the nail. Nail glue is good in conjunction with acrylics. Clear top coat polish is good for nail lacquer. With gel polish, the stone should stick to the inhibition layer and stay in place for curing and top coating." – Vu Nguyen
If you have a burning nail question you'd like to ask, email nailpro (at) creativeage (dot) com with subject line "Ask Guest Editor." Your question may be answered in the print magazine or online!
[Image of Vu: OPI]