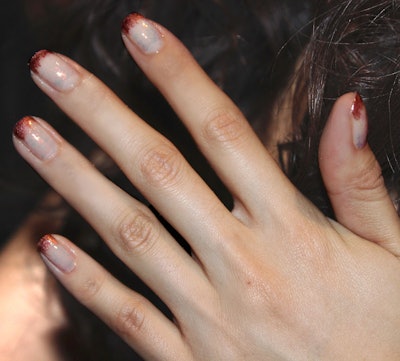 When creating two nail looks for Leanne Marshall, INGLOT nail artists Mahasin Phillips and Jami Zoglio were inspired by the romance that encapsulated them when they first saw Marshall's collection.
For INGLOT's first look was dubbed "Voyage Loves Chase," as Mahasin Phillips was inspired by the thrill of a romantic chase. To create the art, Phillips used a coat of the chunky glitters in INGLOT Nail Enamel #202. After this, Phillips picked the bronze INGLOT Nail Enamel #181 to ombre the tip of the models' nails. To accomplish the light feathering in this look, Phillips carefully brushed up from the tip of the nail towards the center. To finish, Phillips topped the nails with INGLOT Diamond Top Coat #15.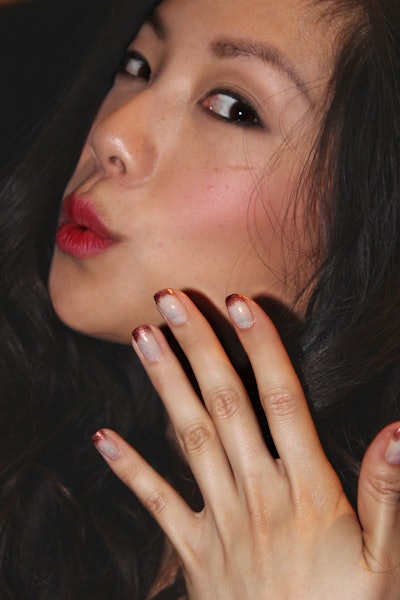 Inspired by the idea of being driven mad by love and desire, Jami Zoglio created INGLOT's second nail look, Obsessive & Madness. Zoglio applied a base of the midnight blue INGLOT #112 to the nail, and then dotted the shimmering olive green INGLOT #985 right over it. Zoglio followed this by dragging the blue and green together with a nail pick. By dripping the red INGLOT #305, the orange #979, and yellow #307, onto the nail above the base, Zoglio ensured that the blue and green would not be disrupted. After allowing the polish to set for 30 seconds, Zoglio dabbed the nails with a tattered make up sponge to create the granite-marble effect. Going of the nails red, yellow and orange with a sponge painted with INGLOT #181, Zoglio added further texture to the look. To finish, Zoglio went over the nails with a thick coat of INGLOT #202 for an rustic, distressed look, and sealed with a coat of INGLOT Diamond Top Coat #15.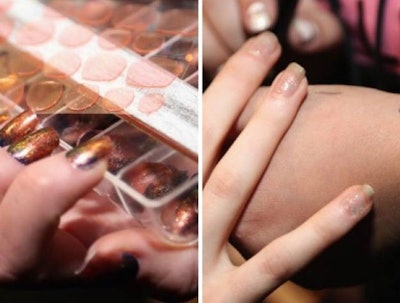 [Images: INGLOT]