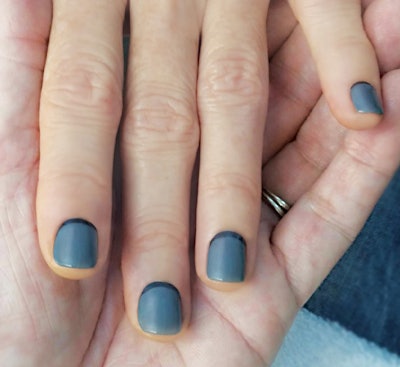 Elaine Watson, Vice President of Marketing and Sales as well as Global Education Director for Cuccio International, accompanied actress Minnie Driver to the set on Sunday as she prepared to film a commercial. Says Watson, "Wardrobe stylist Alexandra Mandelkorn and I collaborated to make sure the casual theme of the clothing matched the nails. We kept the colors in the cool family and Alexandra chose jeans, a grey blouse and this amazing grey hat. I happened to have these two great tones of grey — Oh my Prague and Soaked in Seattle — and decided to halo the cuticle with the darker shade and come in over 90 percent of the nail with the lighter grey. The end result was a perfectly styled look for Minnie literally from head, to finger tips."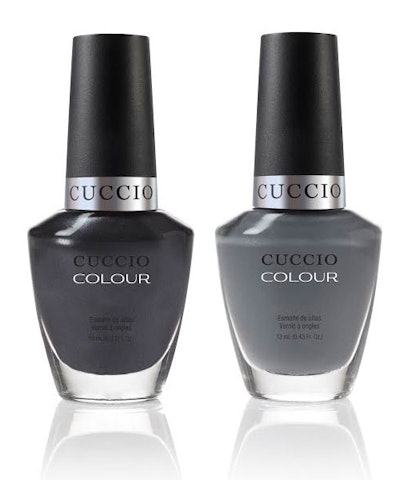 Here's how to create the look:
You'll need:
Cuccio Nail Solutions Base Coat
One coat of Cuccio Colour Oh My Prague to all ten nails
1. Apply first coat of Cuccio Colour Soaked in Seattle to the nails. Drop down the nail when applying and try to follow the cuticle shape as you apply the color. It's also nice to leave a margin of "Oh my Prague" down each side of the nail but taper it off so the line gets narrower and disappears at the free edge. What you are left with is a halo of color around the cuticle.
2. Apply a second coat of "Soaked in Seattle" (if necessary) exactly over the second one.
3. Finish with a coat of Cuccio Nail Solutions High Gloss Top Coat
[Images courtesy of One One Six Media]