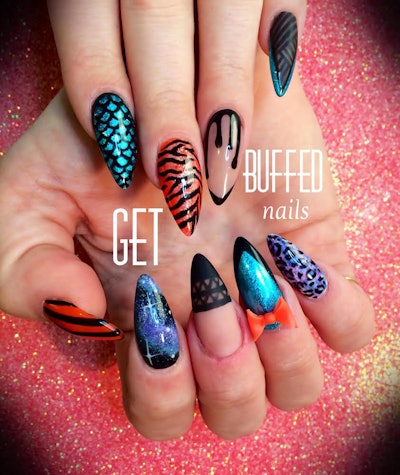 A girls' gotta have her glitter – and this step by step will show you how to get these turquoise foil nails at your own table. Watch as Sarah Elmaz of Get Buffed Nails demonstrates the simple process »
1.) You will need a foil, foil glue (and timer for the glue) and a polish color closely matching to your foil.
2.) Paint the nail with the color you have chosen.
3.) Add a coat of the foil glue over the entire nail. It will be white in color. Set your timer for 5 minutes to let it dry sufficiently. (The glue will then turn clear.)
4.)  Place the piece of foil over the nail.
5.) Rub your finger or orangewood stick over the foil to make sure it all properly adheres to the glue.
6.) Add a top coat to seal the foil in. Get your striping brush and put your black polish on a palette.
7.) Stripe the edges of the nail.
8.) Fill in the edges of the nail.
Find Sarah's nails online:
Facebook: https://www.facebook.com/getbuffednails
Instagram: @getbuffednails
[Images: Sarah Elmaz]