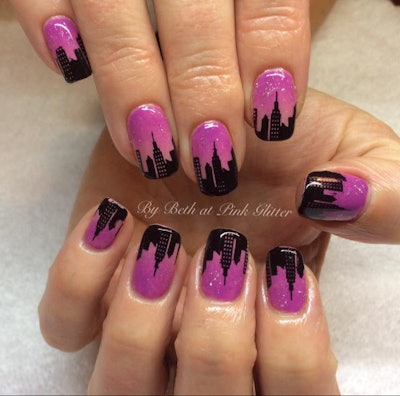 Nail stamping has gotten BIG, and if you aren't already using it in your salon – you should check it out. Stamping allows you to quickly create detailed works of art. The process is faster than hand painting (so you can see more clients in a day), it gives uniform designs every time, and you can easily upsell a basic manicure on a whim with nail art, without pushing back your next appointment.
The top brands for nail stamping supplies are Konad and Bundle Monster. Konad is great for the basics like the stamper and scraper, plus they offer special highly opaque polishes that guarantee great stamping. Bundle Monster has a seemingly infinite number of plate designs – so you'll never find yourself wanting a pattern that does not exist. Additionally, nail plates can be purchased from Ebay and Amazon, as well as small brands like Messy Mansion and Vivid Lacquer.
To begin nail stamping, you'll need a scraper, stamper, preferred stamping plate, an opaque nail polish, nail polish remover, and lint-free wipe or removal pad at the ready. Paint the design you want on the plate with the polish, then use the scraper to scrape the excess polish off the plate. Quickly roll the stamp over the plate and then use a firm roll to transfer the stamp onto the nail. Don't expect your first stamp to be perfect at all. Don't expect your second stamp to be perfect, either. This technique takes a lot of practice, but once you get the hang of it – you will have the ability to create flawless nail art in just seconds.
[Cover image: Beth McKenzie of @nailsbypinkglitter]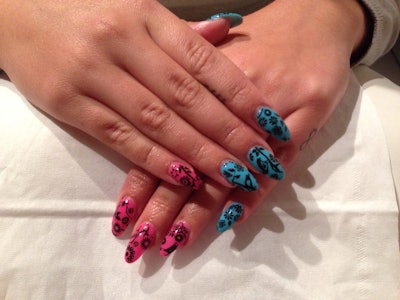 Serpil Jorg De Coninck-Geenen: "Roll it over your nail with a smooth motion and good pressure!"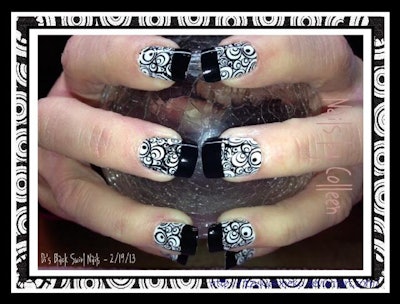 Colleen McLaughlin VanDurme: "For those who don't have good luck with stamping, KEEP PRACTICING!!! I bought my first kit and hated the results so I sold it. Later on I tried again and love it. They're not always going to come out perfect, sometimes the image doesn't come off the stamper, etc. There's more to learn than just paint, scrape, stamp! My suggestion is to use the polishes made for stamping (Konad) because they have great pigment and dry super fast. Not all top coats work with them either. I have a brand of top coat that I found smudges every time!"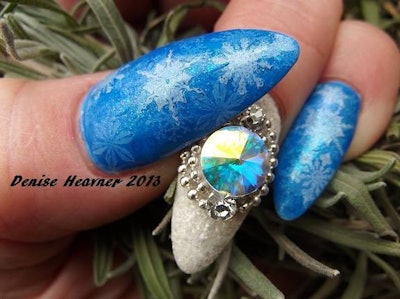 Denise Renee Johnson-Heavner: "I love to layer stamp!" Know you don't have to stick to just one color or design. You can even do a "jelly sandwich" effect – which makes your first layer of stamping lighter (see the faint snowflakes in the background.)  "Use a jelly (translucent) polish and then stamp a design. Repeat another layer [of the jelly polish], and you're done."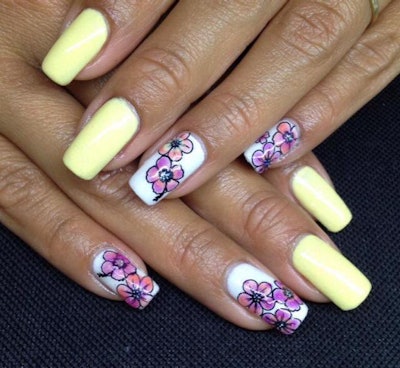 Linda Stewart: Need another stamping nail art trick? Try the Leadlight technique. All you need to do is stamp your design in black and then "dot OPI tints over [your] stamping."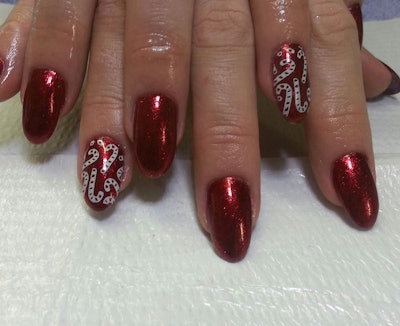 Angela Abney Wingerter: "Everyone wants a design for the holidays and I am not very good at freehand art. Stamping has made holiday art fun for my clients."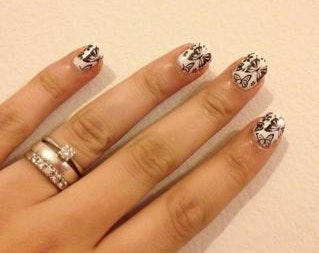 Nicola Scott: "You can use it with gel polish. I use the gel base color, cure, wipe, stamp with a normal polish, then top coat with gel so only the stamp is normal polish. I found stamping didn't work with gel polish; it smudged really badly."