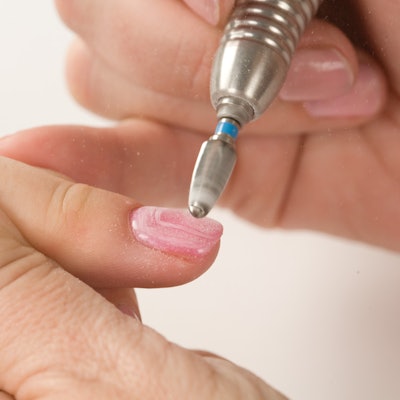 Keep these tips in mind for effective hard gel application and removal!
• Oil on the nail or surface of the product will cause gel and sealers to lift. Be sure to cleanse properly before applying gel.
• Be sure to use a light from the manufacturer of the product that you use. The bulbs vary for each product, and while the wattage of the bulbs may be the same, their ability to cure depends on the time and frequency used, not the wattage.
• When doing gel backfills, be sure to refine the smile lines before any white gel is applied to ensure that the white line is crisp and clear.
• Hard gels are not easily dissolved with acetone, so bits must either be manually cleaned with a brush or put into an ultrasonic cleaner before disinfecting them according to state rules.
• Watch the product carefully as you file — when it begins to turn white underneath the file, the product can be removed without damaging the natural nail.