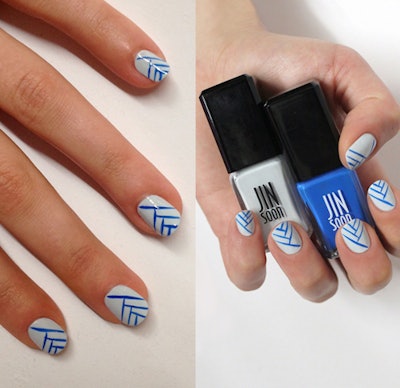 Get yourself ready for summer! Inspired by the cool blue of the shores and sky, JINsoon Founder Jin Soon Choi created a sophisticated nail look perfect for any event this season.
Here's how to achieve the look:
1. File and shape your nails to a natural square shape.
2. Apply a base coat like JINsoon Power Coat.
3. Apply two coats of JINsoon Kookie White on the entire nail bed.
4. With a thin brush, create thin lines using JINsoon Cool Blue.  Paint the first line from the top of the nail at a diagonal, ending at the opposite side of the nail.  Then paint the second line perpendicular to the first line about a third of the way down the nail.  Continue painting at right angles from the previous line (as shown in the photo) until you reach the end of the nail.
5. Apply a top coat like JINsoon Top Gloss for a lasting glossy finish.
 
[Images: JINsoon]